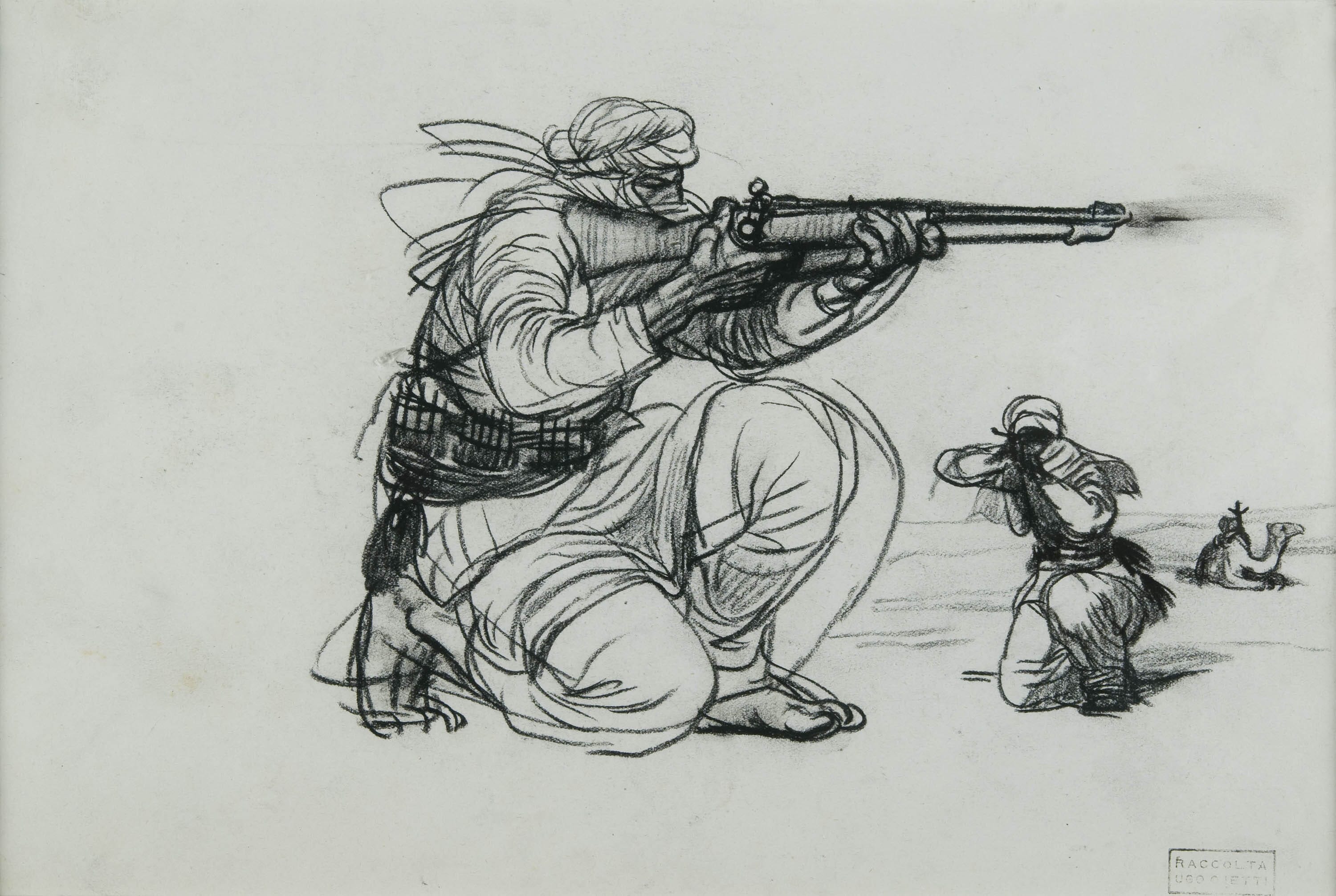 Romano DAZZI
(Rome 1905 – La Lima 1976)
Libyan with a Rifle, 1923 ca.
Black pencil on ivory paper
210 x 310 mm.
Bottom right, Ojetti collection stamp
Provenance:
Florence, Ugo Ojetti collection; Florence, private collection
Exhibitions:
Libero Andreotti, Antonio Maraini, Romano Dazzi. Gli anni di Dedalo, Galleria Francesca Antonacci, Rome, 2009
General bibliography:
Ugo Ojetti, I disegni di Romano Dazzi, Milan, Bassetti e Tumminelli, 1920.
Disegni di Romano Dazzi, catalogue of the exhibition curated by Giovanna De Lorenzi (Florence, Uffizi, Gabinetto dei disegni e stampe), Florence, Olschki, 1987.
Giovanna De Lorenzi, Ugo Ojetti critico d'arte: dal Marzocco a Dedalo, Florence, Le Lettere, 2004.
Romano Dazzi, disegni, catalogue of the exhibition curated by Galleria Lapiccirella, (Rome, Palazzo Venezia) Florence, Lapiccirella, 2004.
Libero Andreotti, Antonio Maraini, Romano Dazzi, gli anni di Dedalo, catalogue of the exhibition curated by Francesca Antonacci and Giovanna Caterina de Feo (Rome, Galleria Francesca Antonacci, 14 May – 26 June 2009) Rome 2009.
Description
Romano Dazzi, the son of well-known sculptor Arturo Dazzi, was born in Rome in 1905. He displayed considerable artistic talent from a very early age, and indeed the Galleria d'Arte Bragaglia held an exhibition of his work, showing fully one hundred and forty of his drawings, in 1919 when he was still aged only fourteen. The introduction to the catalogue was penned by Ugo Ojetti, one of many illustrious friends of the family. The exhibition, astonishingly, was a huge success both with the public and with the critics, many leading lights in the art world at the time considering young Dazzi to symbolise the new generation that came to maturity after the Great War. The artist's favourite themes included chiefly combat scenes and superlative portraits of wild animals (which he had actually seen at the zoo in his home town, where he would spend the entire day drawing). Ojetti immediately noticed the boy's prodigious talent and decided to follow his art career very closely. In those years Dazzi's drawings were still marked by an immature style characterised by rapid, almost "Expressionist" draughtsmanship which failed to coincide with Ojetti's calmer and more meditated taste. The critic thus endeavoured to prompt the lad to adopt a new form of expression, teaching him to govern the exuberance of his own creativity with the disciplining strength of style. The daily control that Ojetti exercised over the boy appeared to have a beneficial effect almost at once, yet Dazzi felt that Ojetti's stylistic placidity was a far cry from his own temperament. The excuse to shake off this burdensome tutelage arrived in 1923, in the shape of an invitation from the Italian Government to join Marshal Graziani's entourage in order to record his military expedition to Libya in a drawing campaign. The months that Dazzi spent in the desert were to have a lasting impact. The quality of the work spawned by that experience is simply astonishing, but it was not always in line with Ojetti's precepts and so the two men's relationship began to deteriorate. It was a bitter moment, and the critic was to build up a certain resentment towards his erstwhile protégé.
From then on, Dazzi began to focus on what were to become the hallmarks of his style: the depiction of movement, the unfinished feel and the idealisation of form. In Italy, however, such an approach was inevitably bound to fail, while the style prescribed by Ojetti was to remain a beacon of aesthetic taste for many decades to come.
This drawing is one of the series of Libyan drawings that Dazzi made during the campaign to record the Italian military expedition in Libya, testifying to his outstanding descriptive skill and to his talent as an illustrator. He devoted these drawings primarily to portraying askari, soldiers, portraits of Libyans and figures in the desert. The camps and long night marches fascinated Dazzi enormously. He was especially drawn by the vastness of night in the desert. But the importance of the drawings produced during his time in Libya fails to do full justice to the impact and depth that the experience had both on the young man's personal life and on his career as an artist.
Libyan with a Rifle depicts a soldier in traditional Libyan uniform aiming his rifle, portraying him from two different angles – full-face and profile – while a camel is resting in the background. The style, while still impetuous, is now more careful and meticulous and reveals greater attention to the depiction of light and shade. In the early 1920s Dazzi appears to start following the precepts of his mentor Ugo Ojetti, who wanted the young artist to set aside the instinctive impetuosity and "Expressionist" distortion of his earlier work, adopting instead a style showing full control over draughtsmanship, handling of volume and the rendering of light and shade.