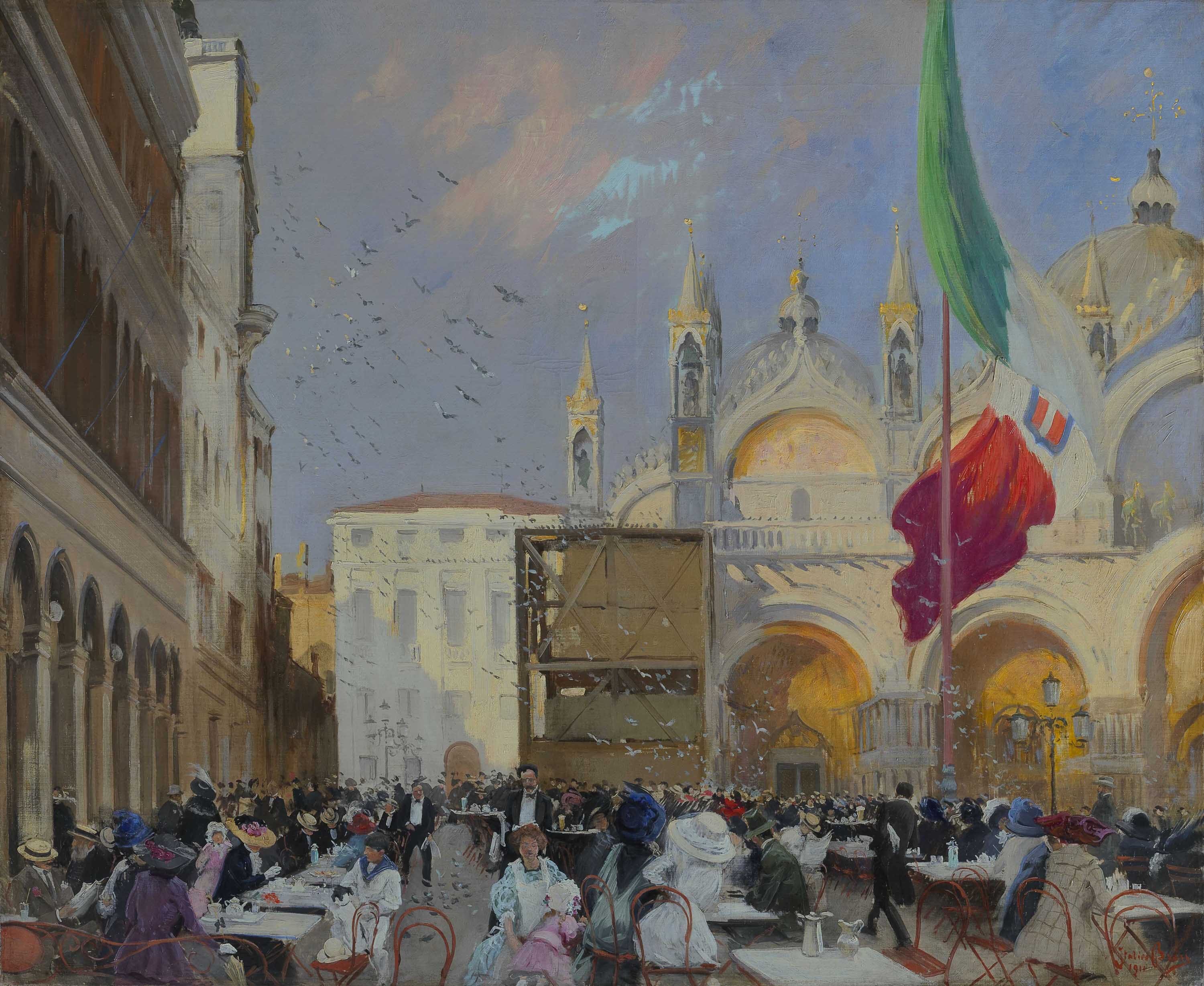 Italico BRASS
(Gorizia, 1870 – Venice, 1943)
Caffé Lavena in Piazza San Marco Venice, 1911
Oil on canvas, 97 x 121 cm.
Signed and dated bottom right: Italico Brass / 1911
Provenance: Venice, Brass legacy; Rome, private collection.
Exhibitions:
Mostra di opere del pittore Italico Brass, Castello di Gorizia, 3 - 17 August 1947, Gorizia;
Italico Brass, Castello di Gorizia, 6 July - 22 September 1991, Gorizia
Bibliografia:
Mostra di opere del pittore Italico Brass, Gorizia, Castello di Gorizia, 3 - 17 August 1947, introduction by Ugo Nebbia Gorizia, 1947;
Italico Brass, (Gorizia, Castello di Gorizia, 6 luglio - 22 settembre 1991), exhibition catalogue edited by Maria Masau Dan Milano, Electa, 1991;
Description
Italico Brass was born in Gorizia in December 1870. From his earliest youth he showed little interest in academic study and so he decided to pursue the path of painting, his true passion, by enrolling at the Academy in Munich where he studied under landscape painter Karl Raupp. Leaving Munich in 1888, he moved to Paris, which at that date had become the world's contemporary art capital and a destination of choice for many Italian artists. Before returning to Italy and settling for good in Venice in 1895, he had married a Russian girl called Lina Rebecca Vidgoff in Paris. Their only son, Alessandro, was born in 1906.
Painting had become Brass's principle source of expression by the turn of the century, and he produced numerous portraits in these years, along with landscapes and views whose natural source of inspiration was the Venetian 18th century vedutista tradition. Brass's work was something of a fixture at the Venice Biennale after 1895, while in 1900 he also showed his Portrait of My Wife at the Exposition Universelle in Paris and it won him an award.
Shortly after the outbreak of World War I, Brass went to the front as a war painter and was commissioned by the Italian Royal Naval Supreme Command to produced sketches and studis, which were to be published in a volume entitled Sulle Orme di San Marco in 1917. War painting was a fully-fledged reporter's job in which the main players were not simply the troops or the weapons that they used but also battle scenes and cities that had been shelled, especially his own city of Venice which was to suffer serious damage in the course of the war. Brass's paintings comprise a reportage offering a detailed insight fuelled by his own personal moral and ethical engagement. He began that reportage on 24 May when he set off in the wake of the Third Army's divisions as they made for the front in the Basso Isonzo region and the foothills of Gorizia. He tended to produce his sketches directly on the battlefield in order to then expand on them later in his studio, sometimes revisiting them further to adapt them for translating onto canvas. Concrete realism is a constant feature of Brass's art. He considers reality to be an essential ingredient in the achievement of the kind of painting whose prime purpose was to faithfully mirror the present. Yet the style both of his work from the front and of his views of Venice never sinks to the level of mere mannered illustration because he infuses reality with an artist's narrative imagination in a marriage that is beneficial to both.
Brass continued to work without a break from the end of World War I until his sudden death in his home in San Trovaso in Venice in 1943. He is remembered today not only for his splendid paintings but also for the substantial collection of works of art, particularly of the Venetian school, that he began to put together with passion and enthusiasm in the early 1900s.
In this painting Brass paints a corner of the city that was well known to the Venetians of his day, consisting in a view of St. Mark's Square from the Caffé Lavena, whose numerous café tables can be seen in the foreground, packed with the city's bourgeoisie in the typical costumes of the period. The Basilica of St. Mark's lords it over the background like a true stage setting, while the white stone of the Patriarch's Palace glimmers to its right. The Italian flag flutters patriotically before the two buildings, the sole element in the composition (along with the two buildings in the background) bathed in the slanting light of dusk. Brass's painting in these years was remarkable for his imaginative and fluid brushwork and for the glittering sheen of his palette.
There is an earlier and somewhat smaller (81 x 65 cm.) version of this canvas, also in oil, which may almost be interpreted as a kind of preparatory study, left unfinished in many areas. The painting under discussion here may be considered a later revisitation of that earlier work, with the view taken from a broader angle and with far more detail, yet Brass has maintained several of the features in the earlier version which add an anecdotic flavour to the scene, such as the lady with a child in the centre of the composition, the waiter in the background and the small group of elderly gentlemen in boaters sitting on the left of the picture.
Another version of the Caffé Lavena in Piazza San Marco was shown at the Venice Biennale in 1912 but its present whereabouts is unknown.