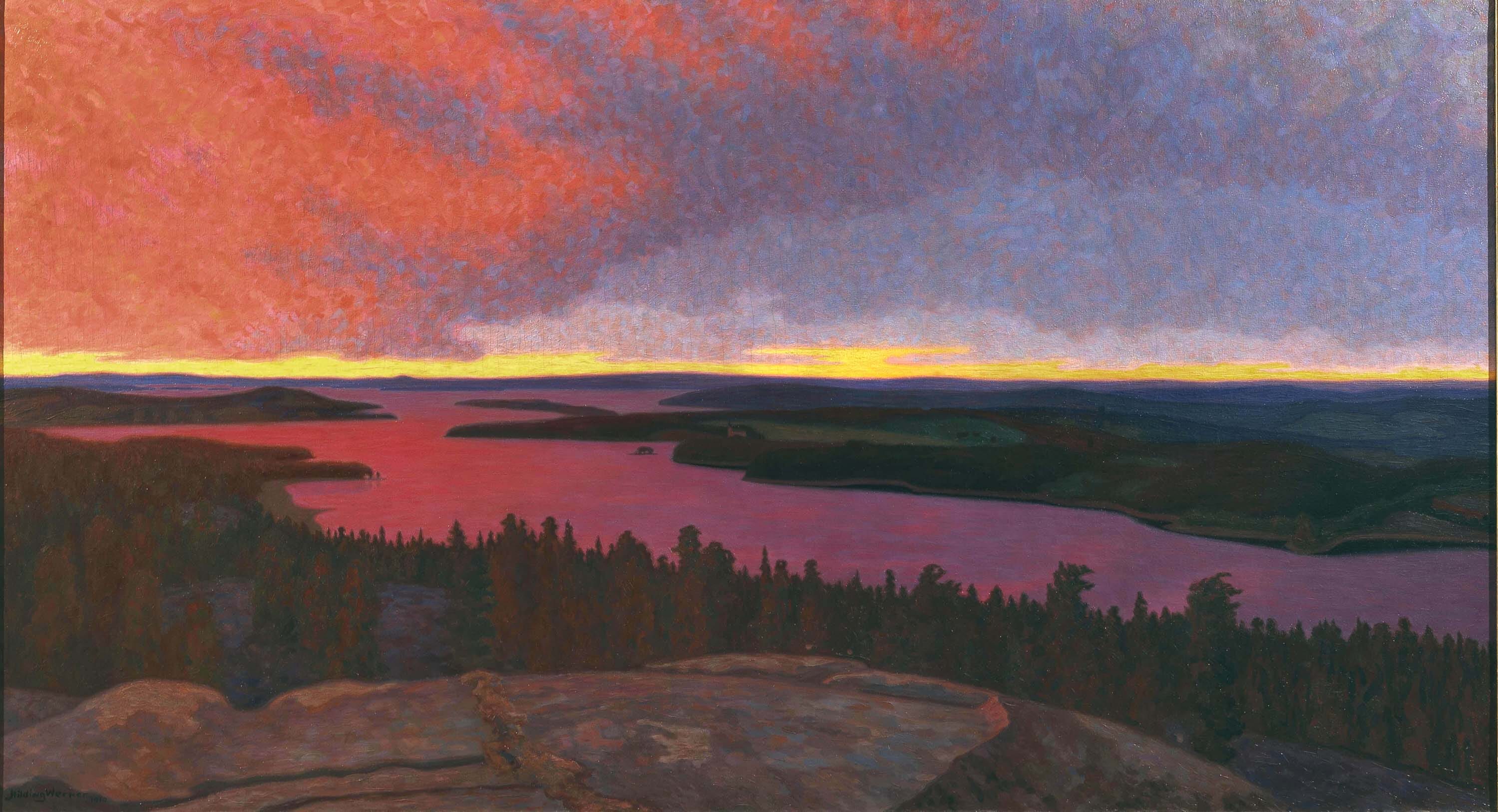 Hilding WERNER
(Kårud, Sweden 1880 - 1944)
Landscape at twilight near Glafsfjorden Värmland
Oil on canvas, cm 64,5 x 145
Signed and dated lower left: Hilding Werner 1910

Description
Hilding Werner began his artistic carreer in 1899 as a caricaturist working for the illustrated weekly newspaper Nya Nisse, published in Stockholm from 1891 - 1919. At this same time, he attended the Althins Art School in Stockholm. Through his friend and fellow landscapist Bror Lindh (1877 - 1941), Werner came into contact with the well-known Swedish painter Richard Bergh (18158 - 1919). Before Bergh became the director of the National Museum in 1915, he established an art school in his atelier in Stockholm. Werner was his pupil at the Konstnärsförbundets in the years 1900 - 1901. Bergh had established himself as a portrat painter in Sweden, but his landscapes played an important role in the development of Swedish romantic nationalism. It was these landscape works that most influenced Hilding Werner when he was Bergh's pupil. In addition, the artist came into contact with Gustaf Fjaestad (1868 - 1948) a landscape painter who moved in 1897 to Värmland and became the leading figure in what was to become known as the Racken Group, an artist's colony outside Arvika, quite near Glafsfjorden. Other artists associated with this group included Fritz Lindström, Bror Lindh, Christian Eriksson and Carl Larson.
The present work dated 1910 depicts the lake landscapes of Glafsfjorden, Sweden's only inland fjord, located in the southern area of Värmland very near the village of Arvika, where the Racken Group was located. Werner sought his inspiration for this landscape devoid of all human figures in the magnificence of nature in his native land; in stylistic terms he has chosen a palette based chiefly on nuances of violet, probably in an effort to imbue his subject matter with the melancholy vein that is a typical feature of so many Romantic landscapes. The style of the painting, characterised not only by a saturated palette but also by soft and rounded lines reminiscent of Munch, reveals a kind of chromatic pantheism that underscores the lyricism of the composition as a whole. As early as the beginning of the century, in 1901, celebrated Italian art critic Vittoria Pica had identified "the Scandinavians' lively emphasis on colour" as one of the primary characteristics of northern European painting (Vittorio Pica, L'arte mondiale alla IV Esposizione di Venezia, «Emporium», 1901, p. 10).
The subject of a lake portrayed in its natural environment certainly was not new to northern European painting; in fact, Finnish art historian Bertel Hintze argued that there existed a kind of Romantic-cum-nationalist Scandinavian school of landscape painting that had chosen lakes for its sole subject matter (see Albert Edelfelt, Porvoo, 1953), and paintings of lakes, often seen from a raised vantage point, were indeed extremely popular both in Finland and in Sweden between the late 1890s and the first decade of the 20th century. Werner himself had depicted Lake Glafsfjorden on more than one occasion: in addition to the picture under discussion here, we know of at least three other paintings of the same subject by him, in each one of which he portrays the lake from a different standpoint and at a different time of the day and year. Yet thanks to the artist's extremely subjective use of colour and to the broad demarcation of the space that magically accentuates its grandeur in the view under discussion here, this is unquestionably the most evocative version because it is permeated with Romantic lyricism and Symbolist features to a far greater degree.
Many works by Hilding Werner are now kept in the Värmland Museum of Karlstad that in the fifties of the twentieth century had a major exhibition dedicated to the artist.