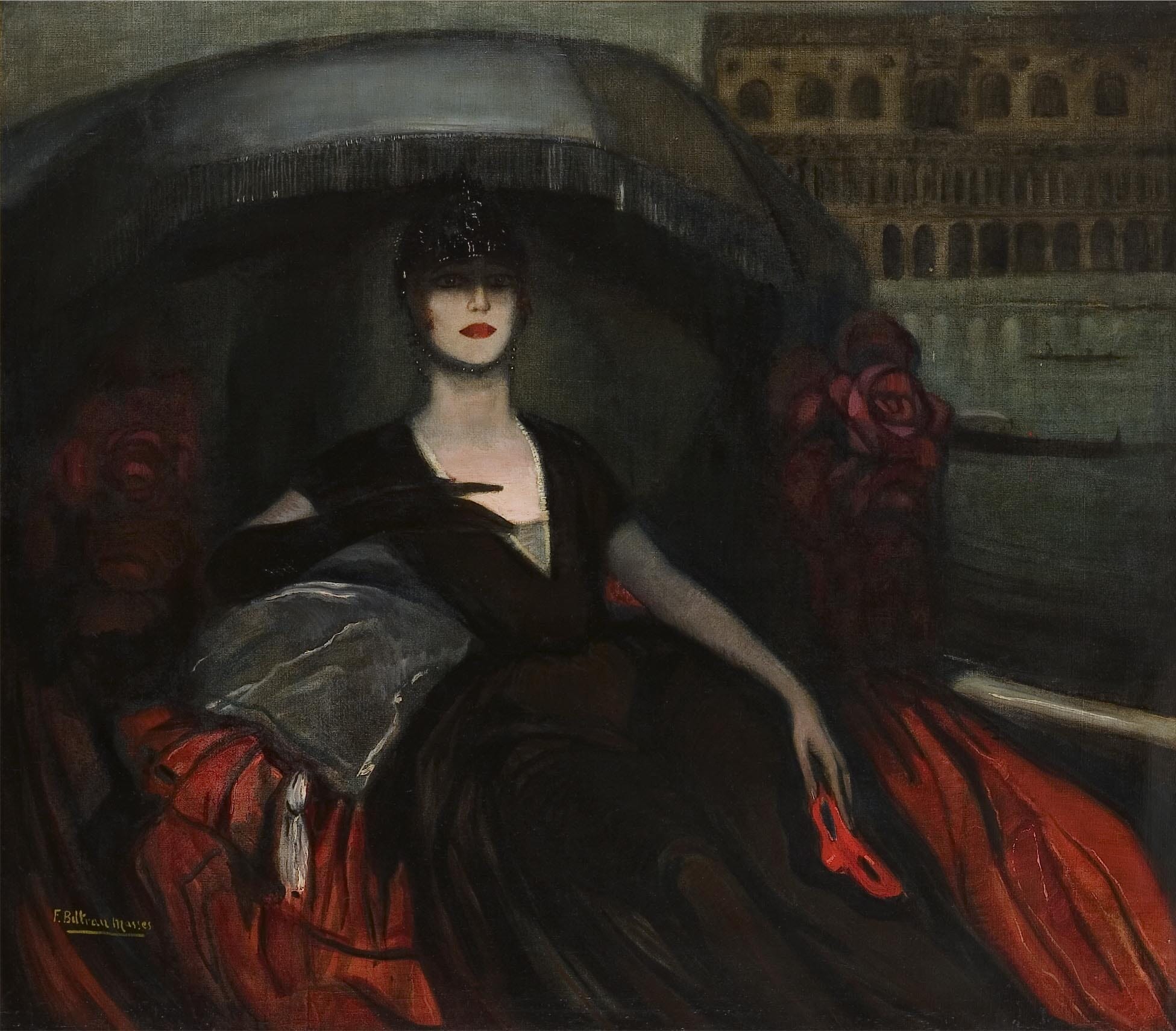 Federico BELTRÁN MASSÉS
(Guaira de la Melena, Cuba 1885 – Barcelona 1949)
Lady Michelham, 1920
Oil on canvas, cm 145 x 160
Signed lower left: F. Beltran Masses
Provenance:
Owned by the artist and inherited by his heirs; Spain, private collection.
Exhibitions:
Exhibition of Paintings by Federico Beltran-Masses, Wildenstein Galleries, New York, December 1924, pl. 32;
The Society of the Arts, Whitehall, Palm Beach, February 1925;
Exhibition of Paintings by the Spanish Master Federico Beltran-Masses, Stendhal Art Galleries, The Fiesta Ball Room, The Ambassador Hotel, Los Angeles, 27 June – 9 July 1925, pl. 10;
Federico Beltran Massés, New Burlington Galleries, London, 14 June – 6 July 1929;
Federico Beltrán Masses, Torreón de Lozoya, Caja Segovia, 2008, p. 67;
Federico Beltrán Masses: un pintor en la corte de Hollywood, Museu Diocesa, Barcelona, 2011, p. 130;
Federico Beltrán Massés: Castizo cosmopolita, Real Academia de Bellas Artes de San Fernando, Madrid, 2012, p. 121.
General bibliography:
Francesco Sapori, La dodicesima esposizione d'arte a Venezia 1920, Bergamo, Istituto italiano d'arti grafiche, 1920.
Paul George Konody, The Art of Federico Beltran Masses, "Apollo", 9, 1929, pp. 335 - 341.
Federico Armando Beltrán Massés, "Anales y boletín de los Museos de arte de Barcelona", IX, 1951, p. 229.
Description
Federico Armando Beltrán Masses was born in Cuba in 1885 to a Spanish Army officer from Madrid, while his maternal grandfather, a physician from Agramunt (Lérida), was married to a wealthy Cuban woman and thus resided on the island. As a boy, Federico was raised primarily by his mother's family in Cuba, where his parents were also periodically stationed until they decided to return to Europe in January 1892, taking up residence in Barcelona. Federico displayed an obvious talent for drawing and painting from an early age. Despite his family's initial opposition, he enrolled at the Escuela Superior de Artes e Industrias y de Bellas Artes in Barcelona in 1903, attending courses run by Joaquín Sorolla and Antoni Caba. In 1905 he spent a few months in Madrid where his first one-man exhibition was held in 1909, then in 1916 he moved to Paris to run the Société Nationale des Beaux-Arts. He died in Barcelona in October 1949, aged 64.
Beltrán Masses is a painter who can be associated with Symbolism in its early stages while tending to slide towards Art Déco in his later career. The genre that he preferred from the very start of that career was portraiture, and it was through portraiture that he was able almost at once to achieve widespread fame and fortune. He was a cosmopolitan artist who trained his gaze primarily on European and North American high society, to the point where his sophisticated and sensual work which, at the same time, espouses a certain elegantly decorative manner, perfectly embodies that cultured, affluent and international environment. Beltrán Masses was to portray numerous celebrities over the years including King Alfono XIII of Spain, King George VI of England and King Umberto II of Italy, Princess Haag of Denmark, the Shah of Persia, Marchioness Luisa Casati, Duchess Sacha Sforza, Countess Arlette Schneider, Countess Raymonde Poilove de Saint Perrier, Viscount and Viscountess Alain de Léché, Lady Michelham and Madame Wellington Koo, the millionaires Rothschild, Peugeot and Lucie Florio, and the icons of Hollywood, including in particular such stars as Rudolph Valentino, Pola Negri, Joan Crawford, Douglas Fairbanks Jr. and Gloria Swanson. This long list testifies to the huge success the artist achieved from the outset and which was to last throughout his career. His renown was also consolidated by the numerous one-man exhibitions of his work held in those years in both Europe and North America, one of the most prestigious such events unquestionably being the Venice Biennale. Beltrán Masses took part in the 1920 edition of the Biennale, showing fully 22 works in a room devoted exclusively to his art. His work also featured in another major exhibition in June 1925, this time in the United States. The Grand Fiesta Ballroom in the Ambassador Hotel in Los Angeles hosted a major retrospective of Beltrán Masses' work, with the numerous portraits that he had painted up until that moment.
The beguiling lady portrayed in this sophisticated painting is Aimée Geraldine Ferguson Bradshaw, who became Baroness Lady Michelham on her marriage to multi-millionaire banker Herbert Stern, 1st Baron Michelham of Hellingly. The Michelhams were introduced to Beltrán Masses by their antique dealer Sir Joseph Duveen. The attractive Lady Michelham, complete with her legendary seventeen-metre string of pearls, had already been portrayed by Giovanni Boldini.
Beltrán Masses shows her seated elegantly in a gondola, wearing a stylish black dress and with her left hand seductively clutching a red mask, an element at once both mysterious and sensual. Beltrán Masses' female universe is often imbued with a penetrating romanticism accompanied by a sense of enigmatic mystery. At the beginning of an article written for Apollo in 1929, Paul George Konody describes Beltrán Masses' portraits as "in the first place colour-improvisations of indescribable opulence, comparable to fully orchestrated symphonies" (Konody, 1929, p. 335).
It is worth pointing out that Beltrán Masses' portraits are often highly descriptive, occasionally even anecdotic. He devotes a great deal of attention to anecdote and to such details as jewels and clothing.
In his portrait of Lady Michelham this descriptive realism does not concern only the sitter, whose clothes, jewels and accessories are depicted in meticulous detail, it extends also to the surrounding environment. In the background, behind a Venetian canal with two gondolas, we can make out the ornate Gothic architecture of the Doge's Palace. Thus the picture does not immerse the observer in a composition of idealised beauty so much as bring him face to face with a real environment, a setting stylistically portrayed with a vibrancy designed to underscore its contrasting colours.
The portrait of Lady Michelham, while undated, may be assigned to the very early years of the second decade of the 20th century, i.e. some time between 1920 and 1923. Though not shown at the 12th Venice Biennale, the picture is very close in terms of both its style and its palette to the paintings shown at that exhibition. There are particularly marked similarities with The Venetian Sisters, The Wicked Maja, Portrait of Marchesa Casati, and above all, with Chrysalis.
Lady Michelham was shown for the first time at the Wildenstein Galleries in New York in December 1924.