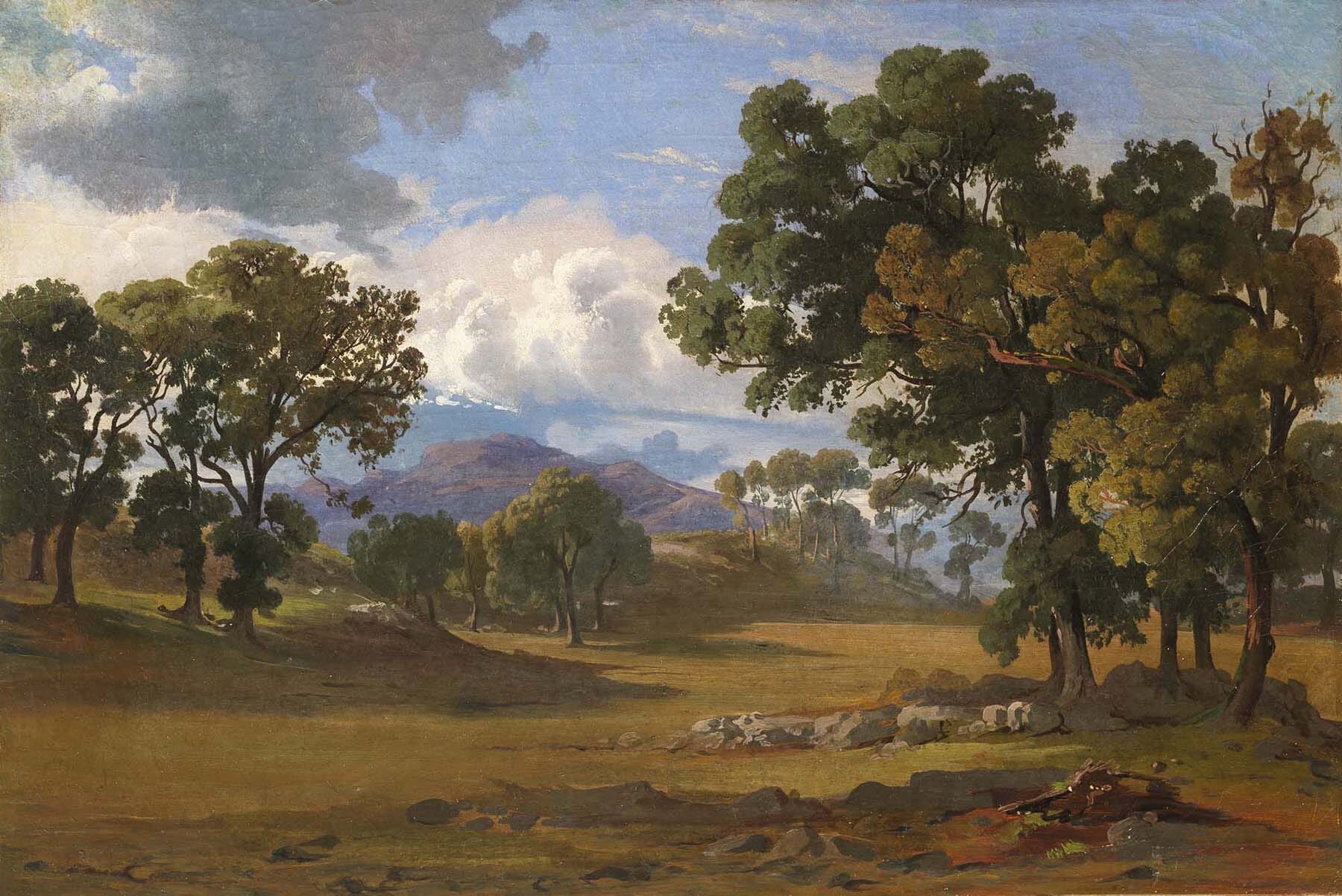 Johann Jacob FREY
(Basle 1813 - Frascati 1865)
Landscape in the Environs of Rome
Oil on paper laid down on canvas, 34,7 x 52,2 cm.
Literature: Pier Andrea De Rosa, Johann Jacob Frey, 1813 - 1865. Nine unpublished paintings. Rome, 2017, ed. Solari Grafiche, pag. 17
Description
When Basle-born painter Johann Jakob Frey reached Rome in the 1820s, the Eternal City was on the verge of relinquishing its age-old role as "Capital of the Arts", yet at the same time it was experiencing an intense artistic season in which its sizeable German community could boast of the teachings and legacy of such figures as the Nazarene painters Joseph Anton Koch and Johann Christian Reinhart, to name but two.
Frey first took up residence in Via di Sant'Isidoro (now Via degli Artisti) named after the eponymous convent which had hosted the Nazarenes, the convent so clearly portrayed with its extensive gardens in the foreground of one of the four large views of Rome seen from the turret of Villa Malta that Reinhart was to paint for Ludwig I of Bavaria between 1829 and 1835. In his role as prince and as Elector Maximilian's son, Ludwig had begun to frequent Rome in 1805 and had ended up becoming the owner of the villa on the Pincio. The four views today are the boast of the Neue Pinakothek in Munich.
In the wake of brief but profitable studies in Munich where such figures as Johann Georg von Dillis, Carl Rottmann and Johann Wilhelm Schirmer were then working, young Frey joined in the life of Rome's German community alongside those painters who pursued the study of nature from life and the atmospheric study of light. And while Carl Blechen, Rottmann and Johann Heinrich Schilbach had already returned home, the city was soon to welcome Schirmer, who founded an "Association for the Description of Landscape" with his comrade Carl Friedrich Lessing in 1827. It is reasonable to suppose that Frey must have frequented the Antico Caffè Greco, a venue of choice for northern European and German artists whose habits earned them such resounding criticism from Felix Mendelssohn-Bartholdy, or the "Trattoria del Lepre" across the street at nos. 9/10, Via dei Condotti – its premises are currently home to a celebrated maison – which boasted a daily menu that would put many of today's finest restaurants to shame. It was in these years that Frey embraced the basic, immutable direction that his art was to take, seeking out and focusing on the lure of the light of Rome, of central and southern Italy and of the Mediterranean as a whole, through atmospheric variation and change set in a natural context and giving rise to the original interaction between light, landscape and nature that was soon to become the original and exemplary hallmark of his painting.
He spent time working in Naples and its surrounding area and in Sicily, affording priority to drawing and to watercolour with the agile and nervous depiction of brief views and solitary landscapes devoid of human figures, together with studies of light, sky and clouds. We can catch a glimpse of the value and of the great store that Frey and northern European artists in general set by light in this anecdote told by Roman painter Nino Costa set in the 1850s: "I was down in the valley of the Ariccia in the company of Mason once, painting rocks at sunset on one of those splendid Italian winter days, when two peasant farmers walked past and one of them asked the other, glancing in our direction: "Ain't these buggers got no stones in their own bloody country?' To which his companion replied: 'They got stones all right, they just ain't got no sun!'".
But what the immediate future held in store for Johann Jakob was an awe-inspiring, if laborious, experience on the human and artistic level when he received an injunction from the Prussian Government in 1842 ordering him to take part, in his capacity as a painter, in a memorable expedition to Egypt and Ethiopia due to be led by the Egyptologist Karl Richard Lepsius, who happened to be his friend and admirer. And even though, in the event, Frey was forced by the climatic and environmental conditions to leave the expedition early and to return to Rome via Greece, the experience was to add new and exciting lymph to his art, to the point where his oriental paintings were to meet with the favour of his admirers from this time on, earning him a leading role in the very fashionable genre of orientalist painting in the footsteps of Belluno-born artist Ippolito Caffi, who was working in the same places as he but over a longer period of time. It was only to be expected that Frey's time in Egypt, with its new dominant colours, with the texture of the atmosphere and the light, the skies, the dawns and the sunsets, would impress itself on the painter's mind and draw him towards new experiments with colour, which he grafted onto the humus that he had built up in Munich and in his years in Rome, in the wake of the legacy of the most innovative artists with German cultural roots, until he became a master of plein air painting in his own right. This aspect of his art has been overlooked by scholars hitherto and it is precisely the aspect on which this essay seeks to cast new light.
Thus the nine oil paintings on paper that form the theme and object of the essay may be dated to the years immediately following his return to Rome. The essay sets out to offer a new contribution, in hitherto unexplored territory, to an ever clearer definition of the very worthy artist that Frey undeniably was; and in view of the quality of these paintings, it seems approprite to begin with an examination of the original technical solution to which he resorted. In greater detail, an as Rome-based restore Alessandro Pavia agrees, in the first six paintings which I would call "atmospheric" studies, Frey resorts to the use of a light brown paper to which he preemptively applies a layer of non-textural colour with a great deal of thinners, almost poor and such as to be more rapidly absorbed by the paper in the short timeframe allowed by panting en plein air, while at the same time creating singular effects of transparency and allowing him to adopt the kind of light brushwork best suited to capturing the changing light. Thus these are not preparatory studies for subsequent consultation while engaged in studio work but small "sketches", instinctive outbursts jotted down on the spur of the physical and spiritual moment, expressions of the soul not designed for sale or for public display. On the contrary, they are episodes which we might call "private", intended to be stored in the recesses of the mind, moments of enrapt inspiration for a motif, without any trace of preparatory drawing that would sit ill at ease with the immediacy of that inspiration, and certainly with no trace of a signature – to what end? – but with only an occasional trace of vague dating.
The first five paintings share precisely this light-based compositional approach, together with the choice of a virtually identical viewpoint along the Lazio or Pontine sea shores. Their topographical proximity enhances Frey's modus operandi, which rests on the study of changes in the atmospheric light which his northern European eye and sensitivity may well have perceived more deeply than those of a native. Highly sensitive to the intimate gestures of nature in its every connotation, Frey loved to wander on foot in the Roman countryside and along the sea shore south of Rome, as we hear from his friend Ferdinand Gregoroviuswhen he tells us: "Every Sunday I go for walks in the Roman Campagna with the painters Frey and Müller and the sculptor Mayer"; or again: "On 10th inst. [June 1855] I went to Castel Fusano in the merry company of Frey, Müller and others:". Rudolph Müller, a commendable painter of watercolours also from Basle, had come to Rome in 1834. He is remembered also for his long human and artistic comradeship with his fellow countryman Friedrich Horner (1800–64). Gregorovius called Müller a "celebrated painter of watercolours".
In Landscape in the Environs of Rome we encounter a different manner, possibly more explicit and aware, that brings to mind a remark made by Letizia Norci Cagiano de Azevedo: "Frey's predominant interest in plants and trees is far from simply skin deep or the product of chance. Naturally it is influenced by a northern European tendency shared by many Romantics, but the intensity of sentiment that fills certain of his drawings of forests and countryside is a product of his technical skill, the result of a study so attentive and so insistent that it can have been triggered only by a deeper-seated and more complex motivation". His nostaglic subscription to nature is accentuated when he tackles sites in Italy and in the Mediterranean, to the point where it ends up completely dominating buildings and architecture while revealing a new and very topical application in his passionate studies of flowers, plants and trees which have often fallen and are now rotting, or in his studies of the beasts that help man in his daily toil – man, who so rarely appears in his paintings, and then only in a role that it would be a euphemism even to call marginal. The bond between nature and architecture rises to the level of an exemplary syllogism in his View of the Temples of Paestum in the Rain in the Kunstmuseum in Basle, where the imperious mass of the ancient buildings is demoted almost to the role of a feeble silhouette in a sudden, violent storm with sheets of water pouring from the heavens. In the same views, finished and in large format, in those emblematic view of Rome, the shimmering green of the vegetation and the tall, swaying pine trees occupy fully three-quarters of the scene, with the Eternal City itself relegated to the role of a distant and often blurred backdrop.