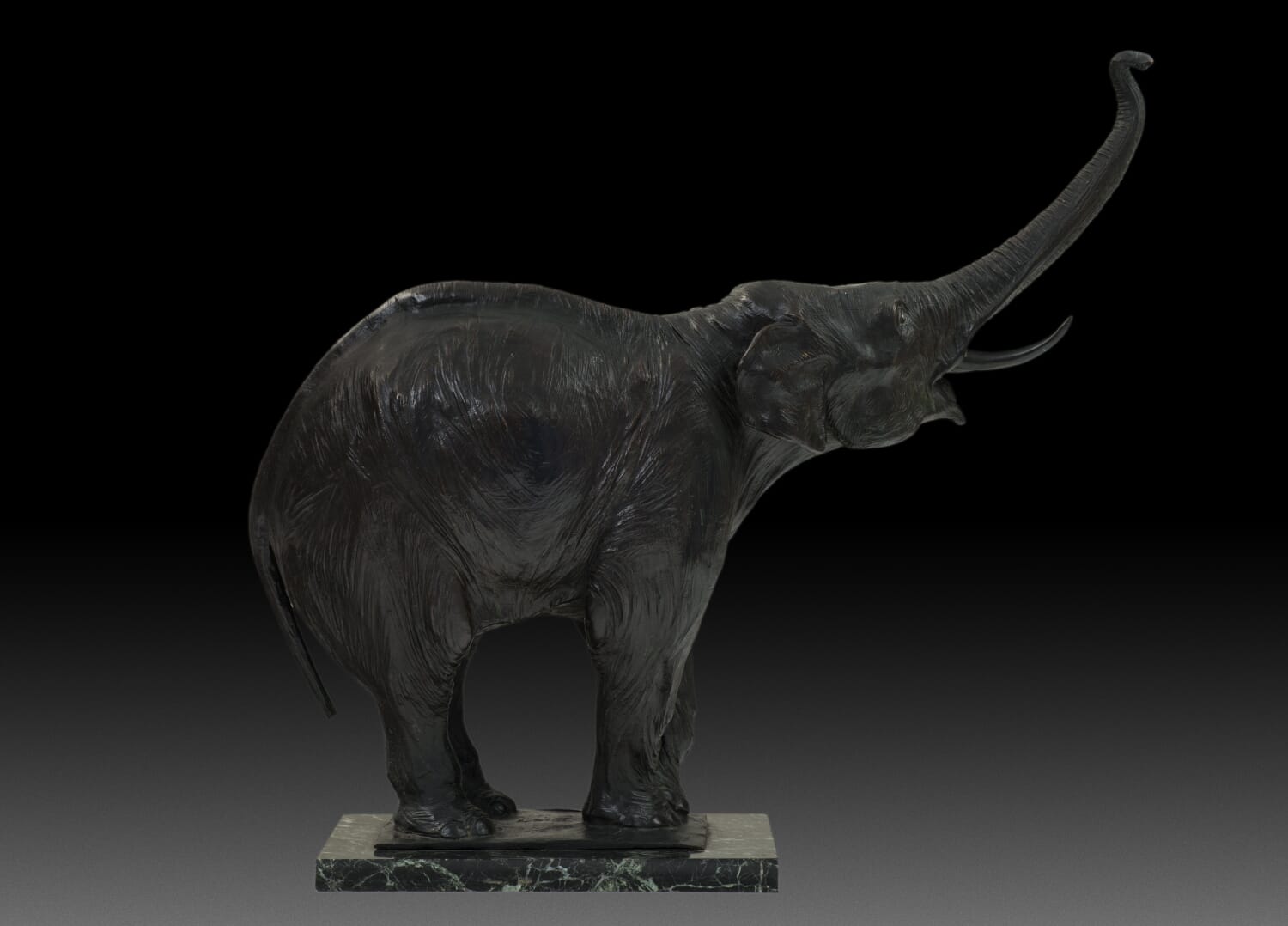 Sirio TOFANARI
(Florence 1886 - Milan 1969)
The Old Elephant, 1923
"Cire perdue" bronze: (h) 64 x 72 x 22 cm.
Base in Verde delle Alpi marble, 35 x 27 x 3 cm.
Signed on the base: Tofanari Sirio / partly legible: Fonderia Marinelli Firenze cp
Exhibition:
One-man show of work by Serafino Macchiati, Sirio Tofanari, Mario Sotgia, Milan, Galleria Pesaro, May 1923, cat. 23.
Provenance:
Rome, private collection.
Description
Sirio Tofanari was born in Florence in 1886. After gaining a diploma at the Accademia di Belle Arti he became a self-trained sculptor, spending time studying in both London and Paris. He made his debut at the Mostra d'Arte Decorativa in Faenza in 1908 at the age of only twenty-two, and in the same year he showed his work at the Promotrice di Belle Arti in Turin, where a member of the royal family purchased one of his works. He showed at the Venice Biennale for the first time in 1909, the Galleria d'Arte Moderna in Florence buying one of his sculptures, and on that occasion he was also noticed by Ugo Ojetti, who was to become one of his most convinced supporters and collectors. In the course of the 1920s he achieved success both in Italy and in Europe, taking part in numerous exhibitions: the Primaverile Fiorentina in 1922, the Third Rome Biennale in 1925 and the Venice Biennale again in 1934. It is no mere coincidence that his introduction in the Primaverile Fiorentina catalogue highlights his international success: "When in England, he studied the animals at London Zoo and in the Natural History Museum in South Kensington instinctively and with great passion; [...] In 1911 Tofanari won the gold medal at the International Exhibition in Barcelona and his award-winning group was purchased for that museum. In San Francisco, Rome, Florence and Turin he won fresh awards; latterly the Galleria d'Arte Italiana in Lima (Peru) wanted two groups by this modest and industrious sculptor who has gained such an intimate understanding of animals' tricky psychology. His modelling is nervous and determined, above all it is dynamic, achieving its greatest effects with the greatest simplicity of line and with the barest synthesis of planes. Modest, extremely industrious, he works and sells a great deal".
He moved to Milan in 1937, where he subsequently began to work with the Società Ceramica Italiana di Laveno. He died in Milan in 1969.
Starting in the 1910s Tofanari began to devote his energies to, and to specialise in, the depiction of animals, becoming one of Italy's greatest 20th century "animalier" sculptors. He carved his subjects with an anatomical accuracy that imparts both a lifelike pose and expression and virtuoso elegance to the animal. What critics at the time praised in his fertile output was not simply his sophisticated skill as a sculptor but also his intense plastic synthesis and the monumental effect that he managed to convey despite his works' small size. His use of chasing and chiselling only after casting imparts particular sophistication and accuracy to his bronzes.
The Old Elephant on display here is a fine example of his work in the 1920s thanks to its sophisticated elegance and meticulous execution. The 1920s was a period in which Tofanari's work was characterised by a vibrancy in which light was modulated on textural solids and voids. The beast's anatomical details are rendered in this instance through deep, clean furrows incised into the metal, highlighted by the movement of the animal's limbs and trunk.
Tofanari made several sculptural models of elephants in the course of his career, including a Female Elephant in which the beast was depicted running with her calf, and in which not only the subject matter but also the style unmistakably echo the Old Elephant under discussion here. The sculptural group of the female elephant with her calf was shown, together with another forty works depicting various animals, at an exhibition in Milan's Galleria Pesaro in 1923 entitled One-man Show of Work by Serafino Macchiati, Sirio Tofanari, Mario Sotgia. The exhibition's two curators – Vittorio Pica and Giulio Ulisse Arata – writing in the catalogue, summed up the artist's style thus: «[...] Tofanari's style at this juncture shuns an analysis of every minute, cold, calligraphically carved detail or skilfully modelled and smoothed surface; in a more modern idiom he summarises these things in a nervous, determined and powerfully dynamic style with great simplicity of line and plane. This summary simplicity, however, leaves his agile, muscular animals with their full complement of life and in some of his most successful works even manages to imbue the sculpture with that profound expression of the psychology of free and wild beasts that Kipling gives us in his jungle books» (Pica, Arata, Milan, 1923, p. 19).
In addition to the Female Elephant, a picture of which was reproduced in the catalogue, the Milan exhibition also hosted another work on a similar subject, listed as no. 23 under the title Old Elephant, which is the one under discussion here. Features generally associated with an old animal are reflected in our beast's broken tusk and in its lined limbs drooping onto its feet, thus certainly consider it to be the work displayed in 1923.