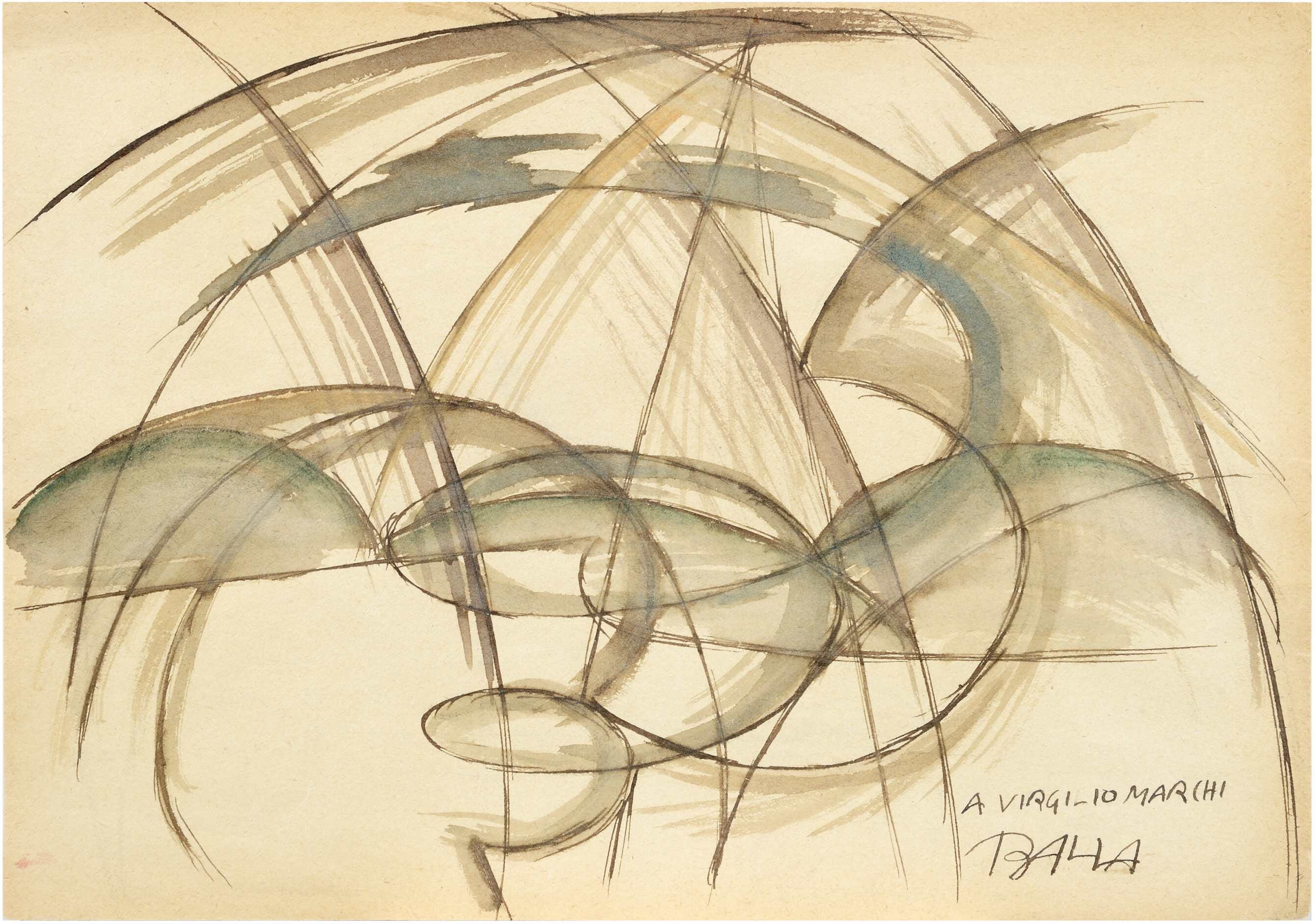 Giacomo BALLA
(Turin, 1871 – Rome, 1958)
Linee di velocità + Vortice + Cielo, c.1914
Brown ink and water-colour on paper
19 x 27.1 cm.
Signed and dedicated bottom right in India ink in block letters: A VIRGILIO MARCHI BALLA
Provenance: Virgilio Marchi, Giovanni Federici, Genova. Collezione privata
Expertises: Elena Gigli 29 October 2002
Exhibitions:
Il Cairo, Galleria Horizon One Museo Mohamed Mahmoud Khalil, Dialogo tra Generazioni dal futurismo ai giorni nostri, 12 Mars - 12 April 2006;
Milano, Galleria ArteCentro, 12-29 Futur Balla, 6 November 20 December 2008;
Milano, Galleria ArteCentro, Futurismo e Aeropittura, velocità e dinamismo dal Trentino alla Sicilia, febbraio-maggio 2009;
Description
The work under discussion here is very close to the paper (identical in size) dedicated to Marietta Angelini, the first woman Futurist poet.
I hereby certify that Professor Fagiolo, in studying the companion piece to this Line of Speed, wrote: "This work is part and parcel of the Line of Speed research which the experimentalist painter called 'the fundamental basis of my thought forms'. From picture to picture, the summary and driving image joins now the sky, now noise, now, as in this case, the vortex ".
Compared to the work dedicated to Angelini, Balla here adds the dynamic force of the sky. I have catalogued the work in Chapter 12 dedicated to the Vortex (number 25).
Elena Gigli
Bibliography:
Intergenerational Dialogue from Futurism to the Present Day, ed. Gioè, catalogue of the exhibition held in Cairo at the Horizon One Gallery - Mr. and Mrs. Mohamed Mahmoud Khalil Museum, 12 March – 12 April 2006, p. 21
Futurismo e Aeropittura, velocità e dinamismo dal Trentino alla Sicilia, ed. M. Fornaciari, catalogue of the exhibition held in Milan at the Galleria ArteCentro, 19 February –16 May 2009, pag. 16 n° 13;