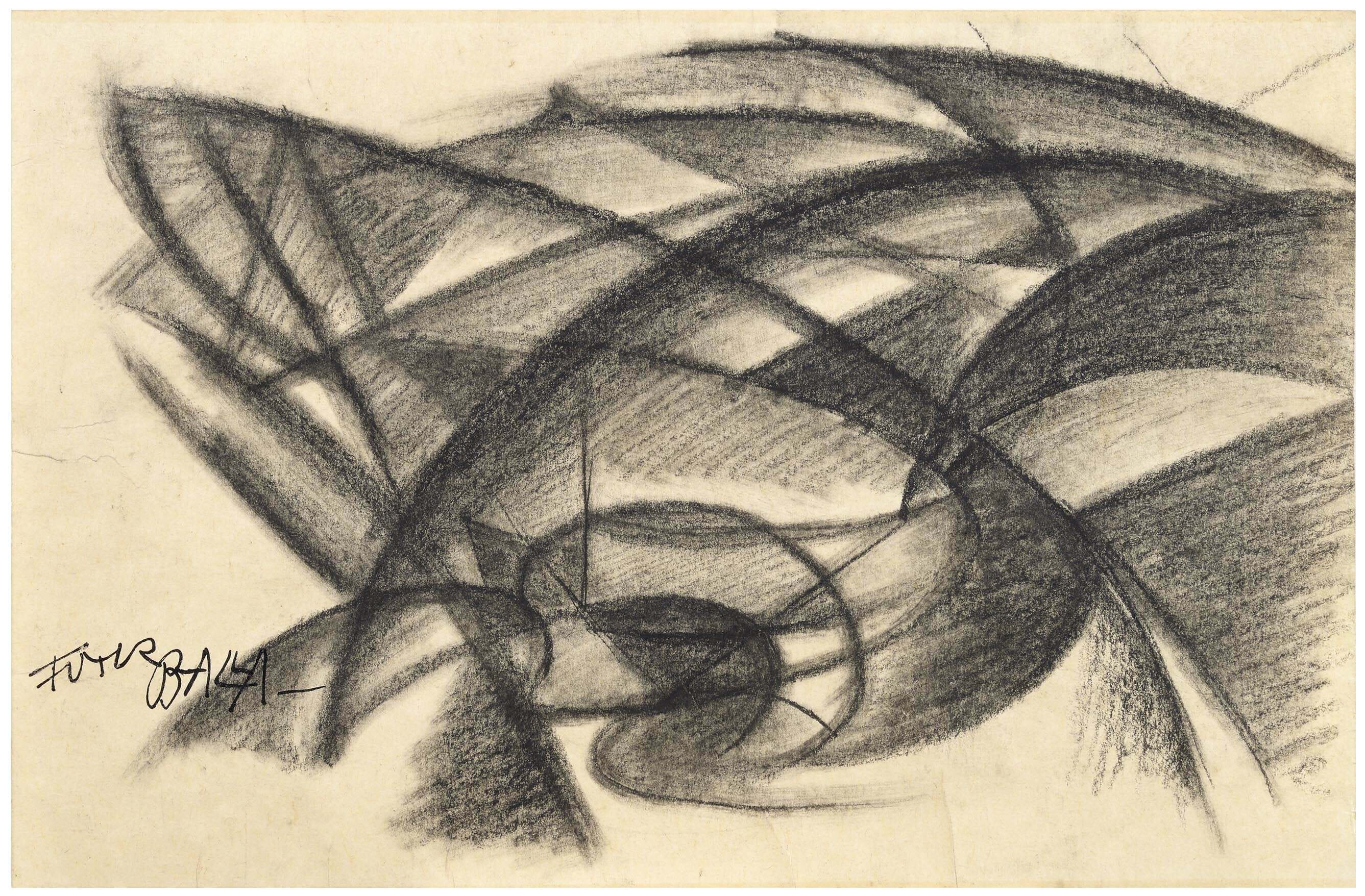 Giacomo BALLA
(Turin 1871 – Rome 1958)
Linee di velocita' + Vortice,1913-14
Conte' pencil on paper, cm 18,5 x 28,1
Signed lower left in pen in block letters: FUTUR BALLA
Provenance: Giacomo Balla, Roma. Collezione Giovanni Prini, Roma. Eredi Prini, Genova. Collezione privata.
Expertises: Luce Balla su fotografia. Giovanni Lista, Paris 28 July 2006. Paolo Baldacci, Milan 30 January 2007. Elena Gigli, Rome 3 December 2008
Exhibitions:
Dialogue entre générations du Futurisme à nos jours, Musée de la Ville de Tunis, Palais Kherradine, 1 - 30 June 2007;
Futurismo e Aeropittura. Velocità e dinamismo dal Trentino alla Sicilia, Arte Centro, Milan, 2009;
1909-2009. L'eresia futurista da Voghera all'Universo, Sala "Luisa Pagano", Voghera, 2009;
A + B + C / F = FUTURISMO, National Art Museum of China, Shangai, 2010 - 2011;
A + B + C / F = FUTURISMO, Guangdong Museum Art, Canton, 2011;
Lo sport nell'arte, Palazzo Salamatoris, Città di Cherasco, 2012.
Description
From 1913 on, Giacomo Balla began to focus on the study and analysis of the breakdown of movement: taking his cue from an analysis of the motion of a girl on a balcony and from the flight of swallows around a gutter, through speeding motor-cars, he eventually achieved the abstraction of speed. After completing the experimentation of "abstract speed", Balla conjugated his analysis with other factors: we encounter space and rhythm, landscape and vortex. Nothing new, only elements studied individually at first and now combined in mutual interpenetration. Let us examine these two elements: the line of speed is quite simply a line taut and compressed like a spring, which Balla extrapolates from an examination of a speeding motor-car, and in this work it mutually interpenetrates with a vortex. The vortex is initially a complication of the line of speed merged with a cosmic shape. The succession of darting orbits ends up forming a vortex, which exists in nature and is visible only to the mind's eye. The drawing should be dated to some time around 1913 or 1914, when Balla probed the Futurist image of a car's speed with the aim of capturing its "kineticism in motion in its visual and sonorous phenomenicity. Thus, adopting an analytical approach, Balla implemented a formal vocabulary of dynamism, resorting to taut curves, differentiated reiterations, acute triangles, diverging vortices and accelerated sprials in which the depiction of the perceptive and sensoral event was transposed until it inaugurated a new abstract language of painting (G. Lista, Paris 2006).
This Linea di velocità + Vortice comes directly from Giacomo Balla, who presumably offered it as a gift to his friend the sculptor Giovanni Prini (Genoa, 1877 – Rome, 1958). After being owned by the Prini family of Genoa, it recently appeared on the international market [2000].
Elena Gigli
Bibliography:
Dialogue entre générations du Futurisme à nos jours, Musée de la Ville de Tunis, Palais Kherradine, 2007, pag. 18;
Futurismo e Aeropittura. Velocità e dinamismo dal Trentino alla Sicilia, text by Massimo Donà, Arte Centro, 19 February - 16 May 2009, ed. Flavio Lattuada, Milan, pag. 16;
1909-2009. L'eresia futurista da Voghera all'Universo, Voghera, Sala Pagano, 4 - 26 April 2009, ed. L. Gallina,pag. 15.
A + B + C / F = Futurismo. 100 anni di parole in libertà, Alessandria, Palazzo del Monferrato, Museo de Cappello, 2009, Shangai, National Art Museum of China, 2010, Canton, Guangdong Museum Art, 2011, ed. Sabrina Raffaghello, Roberto Borghi, Alessandria, 2009, exhibition catalogue pag. 65;
Lo Sport nell' Arte, Città di Cherasco, Palazzo Salmatoris, 15 September- 16 December 2012, ed. Cinzia Tesio, Cuneo, 2012, exhibition catalogue pag 21