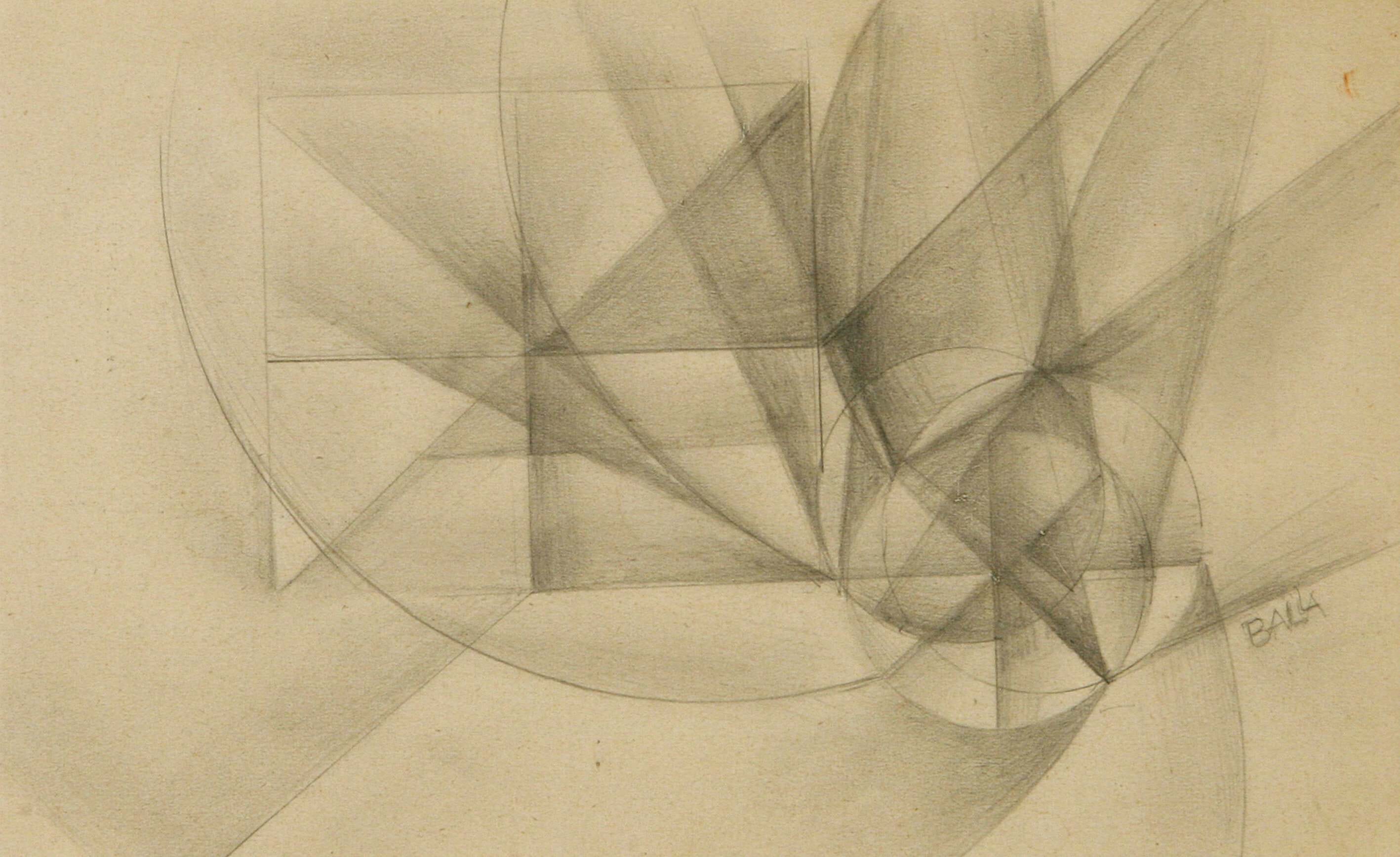 Giacomo BALLA
(Turin, 1871 – Rome, 1958)
Studio di Volumi, 1912–14
Pencil on paper, 14.1 x 22.7 cm.
Signed bottom right in pencil in block letters: BALLA
Provenance:
Casa Balla, Rome, Agenda n.719: Studio di volumi. Valentina Cesaretti Orsini, Rome (1969–71). Private collection.
Expertise:
Elena Gigli, Rome 14 February 2016.
Exhibitions:
Balla, disegni, studi, bozzetti dal 1897 al 1958, Rome, Galleria SM13 - Studio d'Arte Moderna, Rome 22 March – 14 April 1971
Bibliography:
Balla, disegni, studi, bozzetti dal 1897 al 1958, curated by V. Orsini, Rome, Galleria SM13 - Studio d'Arte Moderna, Rome 22 March – 14 April 1971, cat., work 26bis (illustrated), n.719
Description
In early 1910, having shaken off "the burden of experience, of celebrity, and of all his works, rediscovering a new virginity with renewed ardour burning with Faith, much intuition, optimism, fresh as a fresh rose; happy to feel newly laundered", Giacomo Balla decided to turn over a new leaf, in fact a new canvas. Egged on by his pupils Umberto Boccioni and Gino Severini, he signed the Futurist Painters' Manifesto, together with Carra' and Russolo, and Futurist Painting. Technical Manifesto: "our desire for truth cannot be satisfied by either traditional Form or traditional Colour! Gesture, for us, will no longer be a frozen moment in the universal dynamism; it will be, most decidedly, a dynamic sensation eternalised as such". Balla's art invariably begins with an analysis of reality, which can be nature in the Villa Borghese or the legs of a dog on a lead, or his daughter Luce running on the balcony, a hand playing a violin or the flight of a few swallows around a gutter, cars speeding down the Via Nazionale in Rome, or the sails of boats rocking gently in the wind on the sea atViareggio....
1912 was the year of movement, the year of light: he painted movement in the canvas in Buffalo (USA) entitled Lead on a Motorcycle and in Rome in June in a painting in the Grassi Collection entitled Girl x Balcony; this was followed in 1913 by another analysis, another cycle: the flight of swallows, through endless studies of flight which are later complicated by their setting in space in the canvas in the MoMA in New York. In parallel with his studies of swallows, Balla analysed the movement of the motor-car: "the fact is abstracted with equivalents which head from their starting point towards infinity", he says in one of the notebook sheets on which Balla sketched one of the first motor-cars that he observed speeding down the Via Nazionale in Rome. In 1915, publishing his self-portrait in a leaflet entitled of the Exhibition the late Balla and Balla the Futurist, Balla underscored this unflagging research in the 1910s which led first to incomprehensibility, to charges of lunacy, to bad faith and to scorn: Received with smiling indifference are the First plastic researches of the mole (motor-cars in motion movements of people) seen as a curiosity in the public. To end up with a Definitive abandonment, with a reality analysis as the creation of the new Futurist style: )(Synthetic abstract subjective dynamic footprints. More researches + struggle. And he concludes FUTURISM FORWARD.
This study of volumes is part and parcel of the sequence of experiments dating back to the 1910s in which Balla summarises and develops his earlier research in the light of a new experimentalism defined by Maurizio Fagiolo del'Arco precisely with the term parallel research. The work comes from Balla's home, where his daughter Luce listed it under number 719 in her catalogue. It was purchased by Valentina Orsini in 1971 for display in the exhibition which she devoted to Balla to mark the first centenrary of her art gallery in Rome.
Elena Gigli