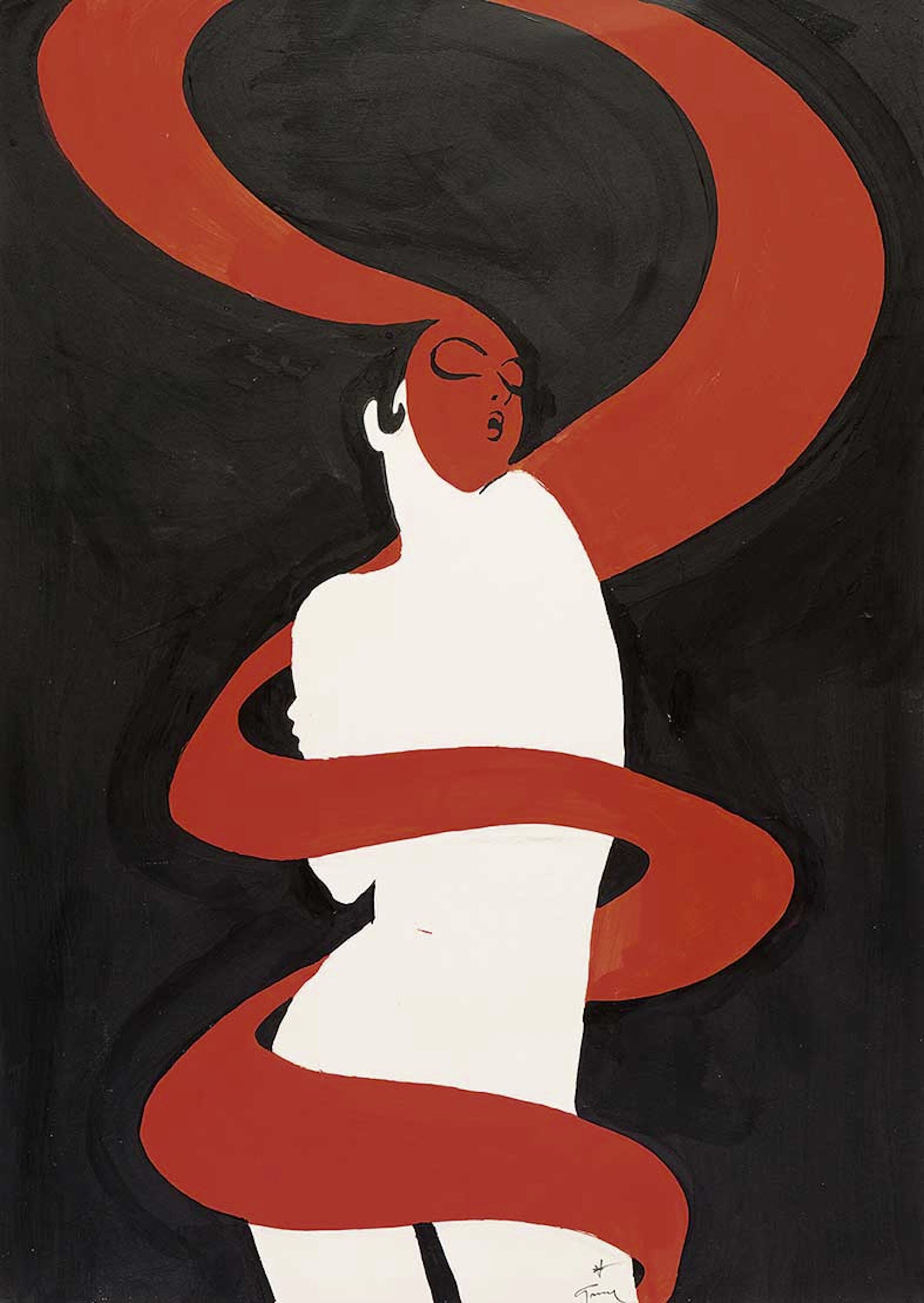 René GRUAU (nato Renato Zavagli Ricciardelli)
(Rome, 1919 – 2004)
Drawing for an advertising poster for the Galerie Tallien, 1976
Tempera on paper
700 x 500 mm.
Signed bottom right: * Gruau
Literature:
René Gruau interprete del moderno, exhibition catalogue edited by Massimo Mannini (Rome, Accademia di costume e di moda, 16 – 31 October 1992), Rome, Salemi, 1992.
René Gruau, exhibition catalogue edited by Andrea Pollarini (Rimini, Sala dell'Arengo, 4 December – 30 January 1994), Milan, Electa, 1993.
François Baudot, Gruau, Florence, Octavo, 1998.
Elisa Tosi Brandi, Gruau e la moda. Illustrare il Novecento, Milan, Silvana Editoriale, 2008.
Description
René Gruau was born in Rome in 1919, the son of Count Alessandro Zavigli Ricciardelli delle Caminate and of Marie Gruau, whose family name he chose for his pseudonym. Despite displaying a genious talent for drawing at an early age, he only truly embarked on his artistic career in 1926 when he met Vera Rossi Lodomez, editor of the magazine Lidel, with whom he established a fruitful relationship, working with her until 1930. The illustrations that Gruau produced in those years range from an overtly Art Decò style to an aesthetic of more distinctly Baroque inspiration. Yet at the same time, we can already begin to detect the graphic style that was to mark his future output, eventually becoming a fully-fledged hallmark of his work in the post-war era.
Gruau left Italy in 1930, travelling initially to England and then moving to France in 1931. He embarked on his career as an fashion illustrator in Paris, working with many of the city's celebrated designers including Dior, Fath, Balenciaga, Balmain and Schiaperelli. In parallel with this activity, he also worked closely with many of the city's fashion and news magazines, such as Femina, Le Figaro, Marie-Claire and L'Officiel. Between 1935 and 1950, by which time the artist had achieved full maturity in his style, he decided to explore the world of advertising. He was rewarded with instant success. His best-known work in those years includes the advertising campaigns for the Moulin Rouge and the Lido de Paris, shortly followed by campaigns for Martini, Cinzano, Lindt chocolate and Perrier. Moving to the United States in 1948, he worked with Harper's Bazaar, Vogue and Flair Magazine. After his friend Christian Dior passed away in 1957, Gruau severed virtually all his ties with the world of fashion in order to devote his energies with increasing momentum to the world of advertising, a genre that prompted him to engage in a revisitation of the traditional advertising poster through a formal reinterpretation of the work of such artists as Toulouse-Lautrec and Bonnard. He expanded his fields of interest in the late 1950s and began to explore new advertising products for the theatre and the cinema, producing the poster for Fellini's celebrated movie La Dolce Vita in 1959. Gruau returned to the world of fashion and to Paris in the 1980s, working with Vogue France, Elle and Madame Figaro, and in Italy he is widely remembered for his work with fashion designer Laura Biagiotti. He died in the city of his birth in 2004.
Gruau produced the drawing under discussion here in 1976 as a preparatory work for an advertising poster for an exhibition in the Galerie Tallien in Saint-Tropez that ran from 15 August to 30 September 1976. The actual poster produced from the drawing appeared on the market at a recent auction held in the Druout-Richelieu house in Paris (see Ader Nordmann auction, 7 November 2013, Paris, Drouot-Richelieu, lot 360). Gruau's cooperation with the Galerie Tallien in Saint-Tropez should come as no surprise, because even though the artist lived in the French capital for many years after first moving there in the 1930s, he also frequently visited the Côte d'Azur, even making the area his stable home for a time in 1985.
The drawing for the Galerie Tallien is typical of the markedly graphic aesthetic that is such a feature of Gruau's entire artistic output. The image is built in a series of planes through patches of colour which are emphasised by dynamic and energetic strokes with a strong visual impact, achieved through the wavy line occupying the entire graphic space. A woman's white body stands out against the black background in stark chromatic contrast, while a dynamic thrust is imparted to the prevailing graphic flatness by a red spiral enveloping the whole body and ending like a mask on the woman's flirtatious face. In this case too, as in most of the illustrations that Gruau produced, the narrative is played out through a stylisation of forms, the intention being to evoke rather them to openly display the product. Gruau rarely draws the object that his poster is promoting, opting instead for a way of conveying the message that relies on pointers and on visual associations, a feature which unquestionably played a major role in ensuring his huge success in the world of advertising.