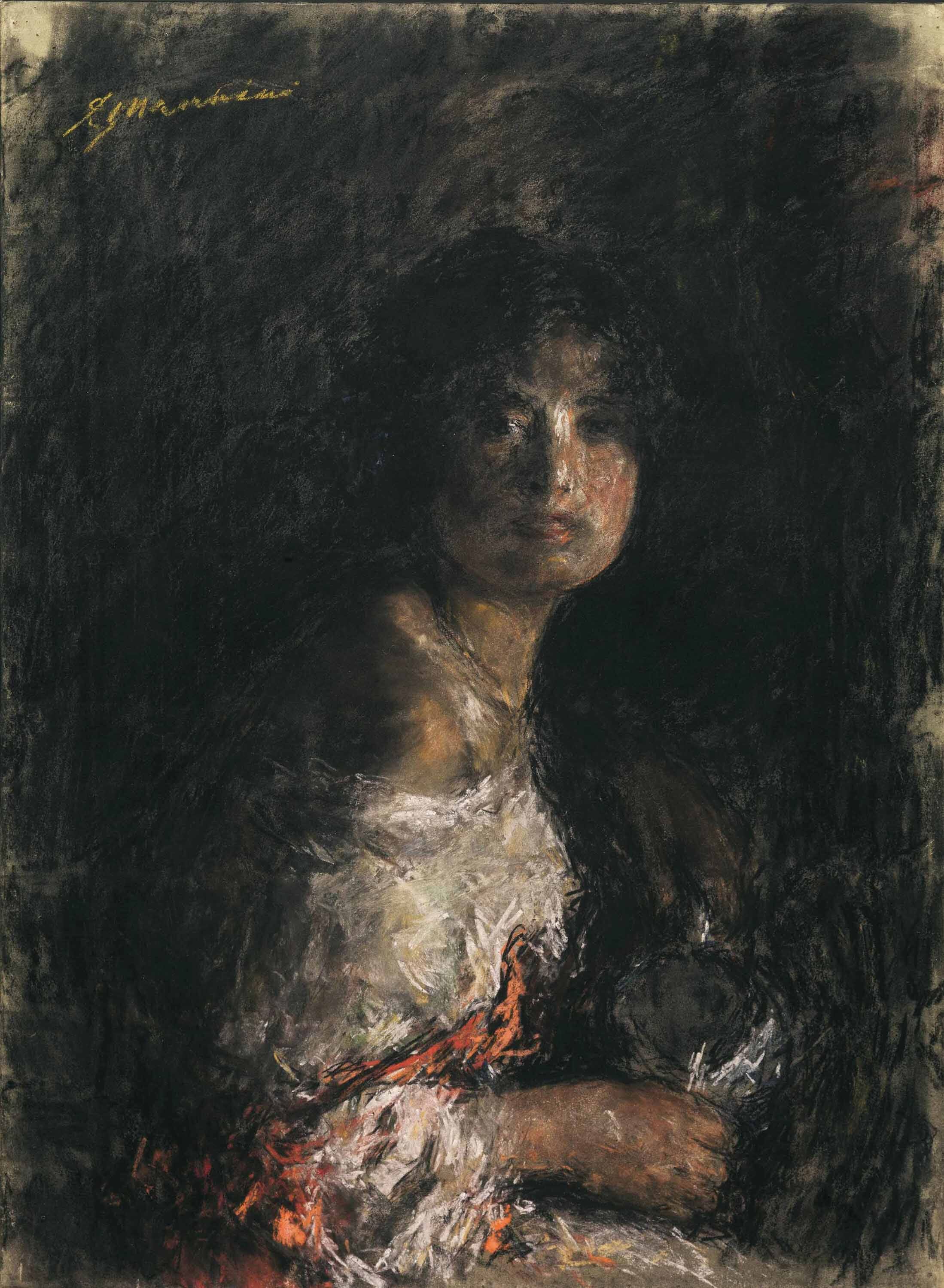 Antonio MANCINI
(Albano Laziale, 1852 – Rome, 1930)
Girl in White , 1910–14 ca.
Pastel on paper laid down on canvas
76.5 x 56.5 cm.
Signed upper left: A. Mancini
Stamp of the Galleria Sacerdoti in Milan on the back
Provenance:
Milan, Galleria Sacerdoti; private collection.
Exhibitions:
Antonio Mancini, curated by Alfredo Schettini, Milan, Galleria Nova, 17 December 1941 – 11 January 1942.
General bibliography:
Catalogo della vendita all'asta della raccolta Fernand Du Chéne De Vère, with an introduction by Vittorio Pica, Milan, Galleria Pesaro, 1927.
Antonio Mancini, catalogue of the exhibition curated by Alfredo Schettini (Milan, Galleria Nova, 17 December 1941 – 11 January 1942), Milan, 1941, plate XXVIII.
Alfredo Schettini, Antonio Mancini, Naples, Stiped, 1953,
Dario Checchi, Antonio Mancini, Turin, UTET, 1966.
Antonio Mancini 1852–1930, catalogue of the exhibition curated by Bruno Mantura and Elena di Majo, (Milan, Palazzo della Permanente, 16 September – 27 October 1991), Rome, De Luca, 1991.
Antonio Mancini, catalogue of the exhibition curated by Paolo Camporiano (Treviso, Centro Espositivo Permanente, 31 October – 31 December 2009), Treviso 2009.
Description
Antonio Mancini was born in Albano Laziale in 1852 but moved at an early age to Narni, where his father worked as a tailor. As soon as he set out to forge a career for himself in painting, he moved to Naples to attend the local fine arts institute, which was run at the time by Domenico Morelli and Filippo Palizzi. While training in these early years, young Mancini took an interest in portraiture and in anecdotal painting, also exploring the potential of chiaroscuro and being able to study and to admire Neapolitan 17th century painting in the first person. His output between 1866 and 1870 is remarkable for its generous modelling and its rich and varied palette, his chosen subject matter being almost exclusively the Neapolitan ragamuffins known as scugnizzi and the common people in the streets of Naples, where he shared a workshop with the sculptor Vincenzo Gremito until 1873. He showed his work at the Paris salon in 1872 and decided to move to the French capital the following year, working initially for the Maison Goupil and then for Dutch painter and patron of the arts Hendrik Willem Mesdag. Thanks to his close association with the work of the Impressionists in Paris, Mancini took an interest in light and in the ways light is reflected, which led him to abandon the darker hues of his earlier work for a far lighter and livelier palette. His textural use of colour was further accentuated after 1880, when he began to thicken the backgrounds of his compositions with dense and vibrant brushstrokes. Returning to Naples on account of the serious attacks of hysterics that so frequently beset him in France, he entered a clinic where he was to remain for four years, continuing to paint all the while. After a few years he started to travel again, staying in Paris for a time before moving to London. He returned to Naples in 1879 and then moved to Rome in 1883, where he settled and where, at the turn of the century, he was to sign contracts with two well-known art dealers, first with a German dealer called Messinger and then with a French dealer named Du Chêne. These were extremely fruitful years for Mancini, whose work had by now acquired a certain renown both in Italy and abroad. He died in Rome in 1930.
The portrait of a Girl in White, shown under the title Giovanetta in bianco (58 x 81 cm.) at the Galleria Nova in Milan in 1942, is a splendid example of Mancini's portraiture from the early 1910s. The drawing, transferred onto canvas, is undoubtedly part of the core of works that he painted in Frascati between 1910 and 1918 while a guest of Fernand Du Chêne De Vère, a wealthy French industrialist and Mancini's patron at the time, who even set up a workshop for him on the ground floor of his Villa Jacobini and hung Mancini's pictures throughout his home. An enthusiastic collector and conoisseur, Du Chêne so admired Mancini's work that he decided to draw up a contract with him giving himself the exclusive right to the painter's entire output. Mancini withdraw to paint in the Frenchman's villa and to live there in almost total isolation, associating only with the peasants and farmers of Frascati, whom he also used as models for his portraits. His preferred subjects at this time were not much different from those that he had been producing hitherto, such as ladies, minstrels, pages, gypsies, peasant girls, fruit and flower sellers, and self-portraits. During his time at Villa Jacobini, Mancini rediscovered an unexpected side of humanity, which he conveys in the Girl in White through light effects and a tonal delicacy that underscores the expressive immediacy and a "stolen gesture" feeling in the young girl as she prepares to pour water from a jug.
From a technical standpoint, the portraits that Mancini produced in the years in which he worked for Du Chêne are characterised by the use of pitch black, an element that he occasionally used to highlight faces or clothes but always to underscore an extremely expressive gaze. Yet the raison d'être of Mancini's painting is not to display his technical skill; rather, it lies in the need to create an atmosphere out of which he could then cause a figure to emerge as though it were a living portrait. As Schettini says: "In Mancini's work it is only his increasingly clear and vibrantly realistic vision that seeks to abolish shade and to intensify its own plastic and tonal qualities, taking them to a degree of extraordinary energy and painterly substance" (Schettini, 1953, p. 184).
In the portrait under discussion here, the sitter's exceptionally descriptive face emerges from the earthen background, while space is abolished by sporadic brushstrokes of dark paint which, by chiaroscuro contrast, focus our attention on her white dress. Her smile, here only hinted at, places the sitter in the company of the pretty young girls whom Mancini had so often painted laughing, dressed in local peasant costume or as ladies, as Spanish belles or in Rococo costume, always elegant in their black velvet and white satin gowns. Colour and light are two constant features of Mancini's output. His chief aim is, as Pica tells us, is "to fix convincingly on the canvas the impressions of relief, colour and light that reality transmits to the pupils" (Pica, 1927, p. 14).
The model in the Girl in White is in all probability the same young girl who posed for another of Mancini's works entitled the Fruit Seller, also owned by Du Chêne and included in the sale catalogue of 1927 (Milan, Galleria Pesaro, 1927, plate XXIII). It was far from unusual for Mancini to use the same model, in fact we find him using the same girl in numerous paintings, including Girl in Pink, Girl in Blue (Mantura, Majo, 1991, plates 39 and 40), 18th Century Costume and Roccocò (Milan, Galleria Pesaro, 1927, plates XIII and XV),and two paintings depicting a Figure of a Young Girl (Galleria Pesaro, 1927, plates XVII and XXIX).
The proposed date for the portrait under discussion here, some time between 1910 and 1914, is based on the chronological attribution proposed for the Girl with the Laughing Profile, 73 x 55 cm., (Camporiano, 2009, plate 19), which bears an astonishing similarity to the Girl in White in terms of its subject matter, its execution and its size.