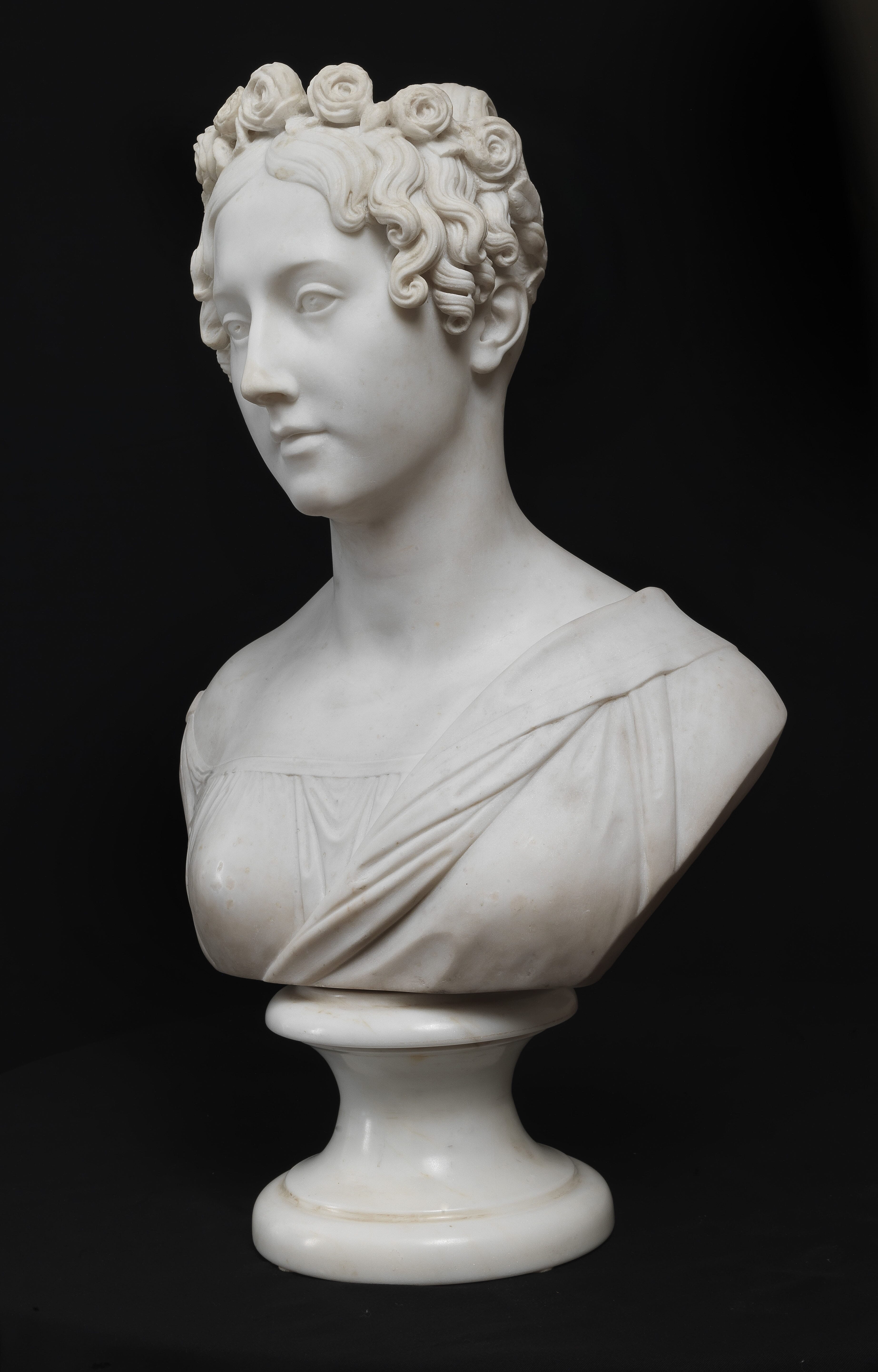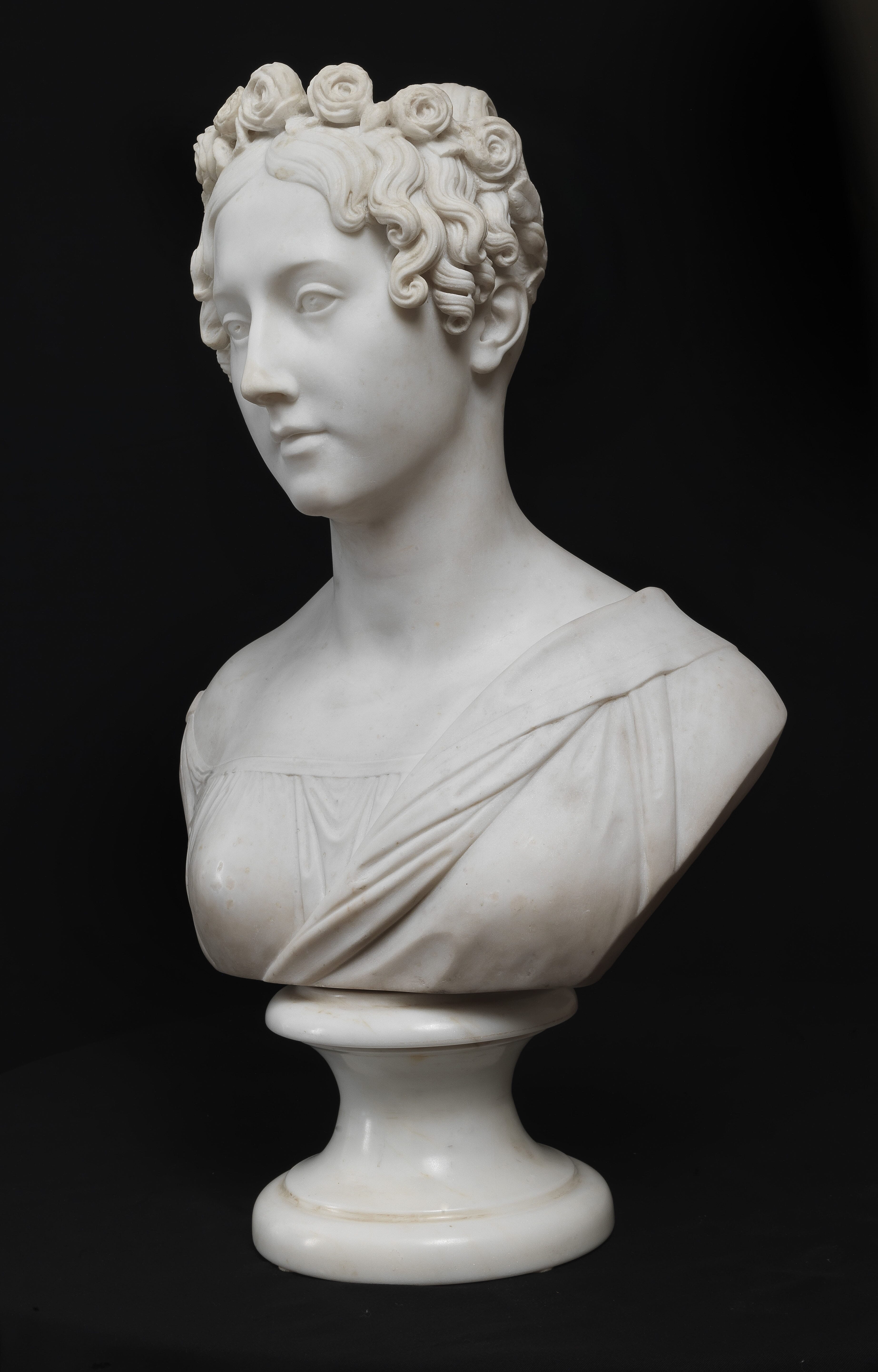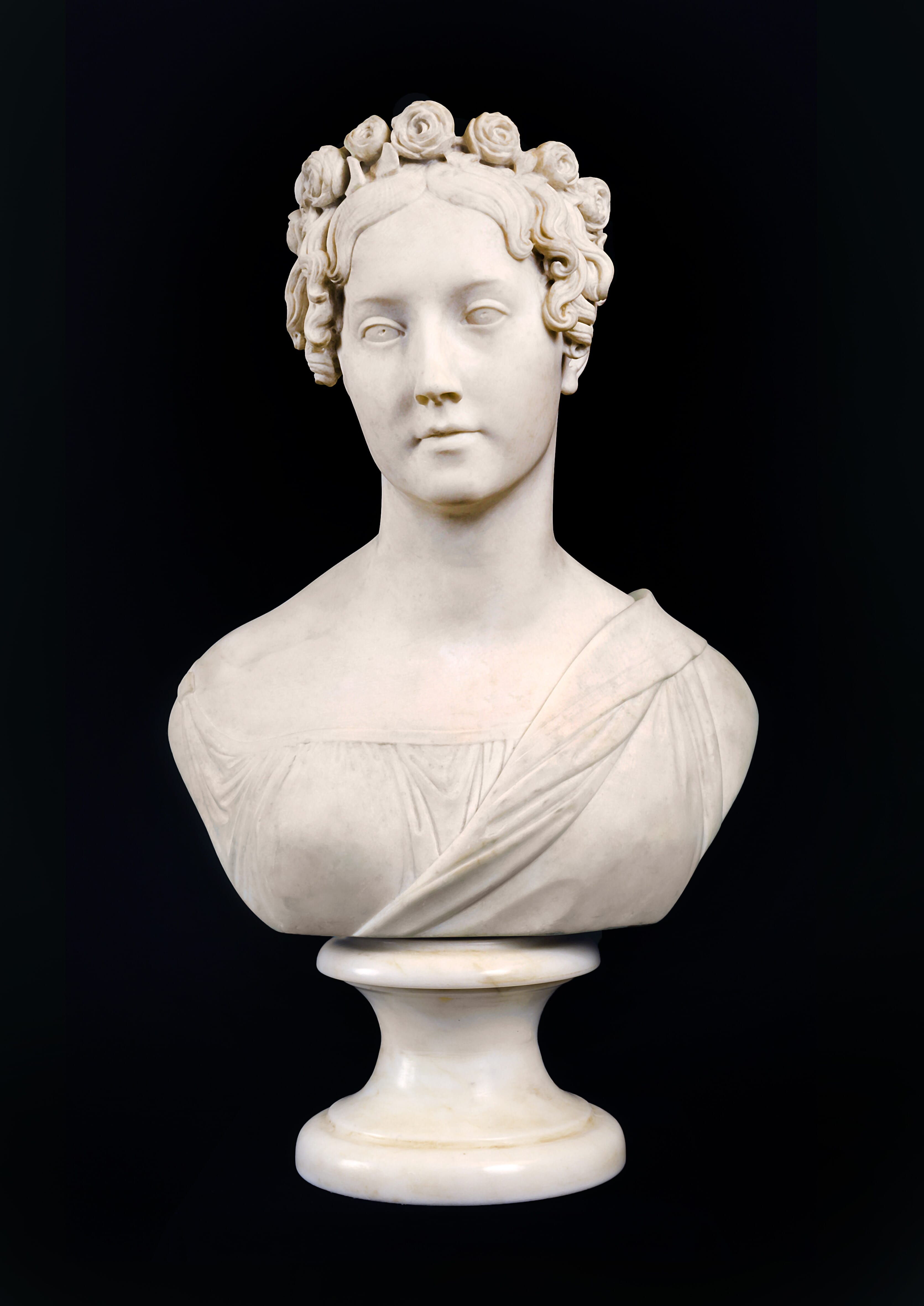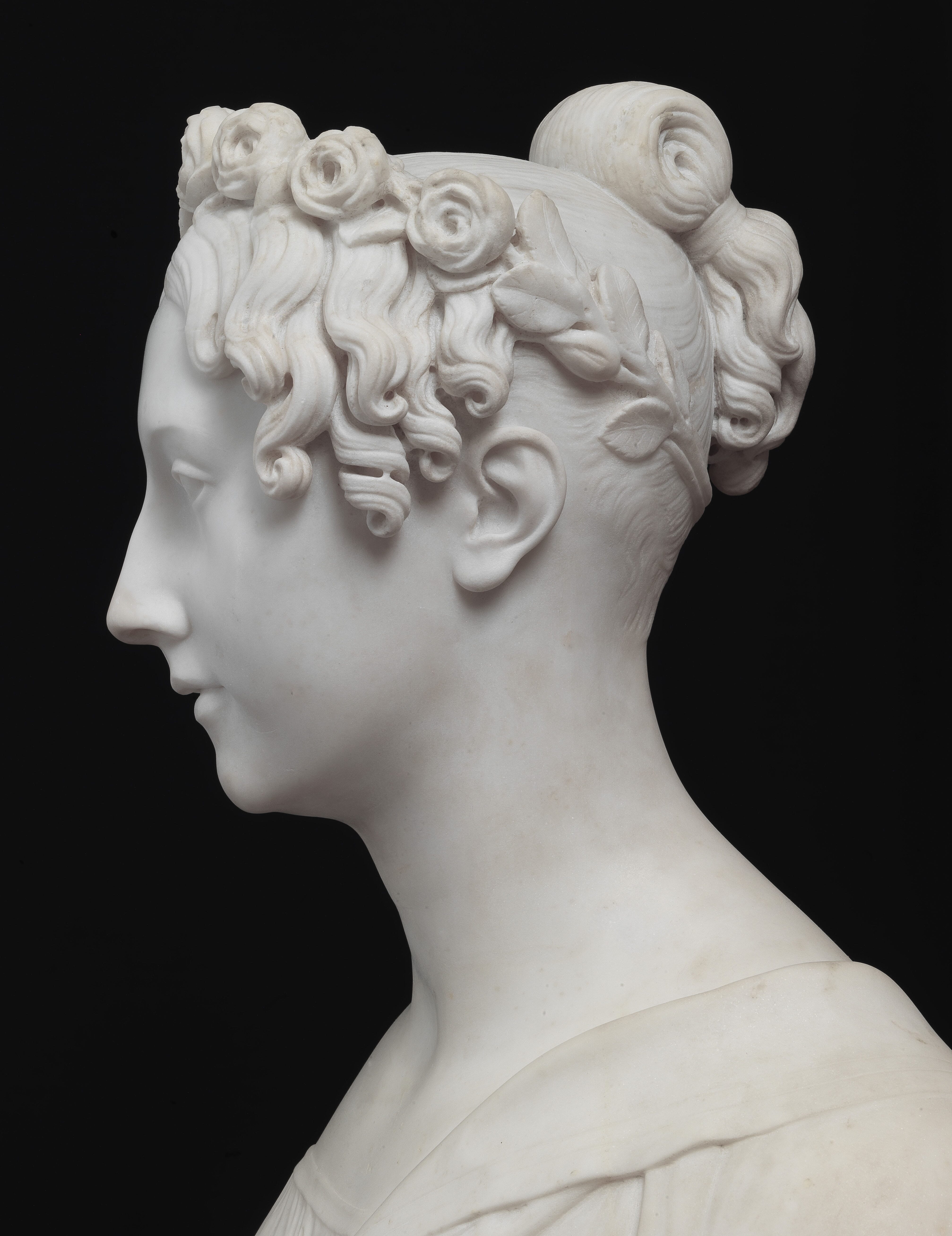 Ridolfo SCHADOW
(Rome 1786 – 1822)
Bust of a Lady
Carrara marble
heigh cm 52 , base cm 67
Signed and dated on the verso: "Rudolph Schadow Fec. Romae 1816"
Description
Ridolfo Schadow, born three years before Danish Bertel Thorvaldsen's most important pupil, Pietro Tenerani, and became well-known as independent artist before him thanks to the international success of a restricted series of works he reproduced for the greatest collectors and patrons of that time, was the person who, among Bertel Thorvaldsen's circle of artists, better learned master's lesson projecting it immediately towards original outcomes.
Schadow, untimely dead in 1822, was born in Rome but grew in Berlin, pupil of his own father, the famous sculpture Johann Gottlieb. In 1810 he went back to Rome with his brother, the painter Wilhelm, acquiring the studio which had belonged to Christian Daniel Rauch, and decided to settle there. Thorvaldsen's influence was evident since the first work of art Schadow made and sent to the Academy of Berlin in 1812, Paris, melted in bronze after his death starting from a shape prepared by Tenerani (Pommersfelden, Kunstsammlungen Schloss Weissenstein).
A cycle of three sculptures was dedicated to representing female figures in their ordinary gestures or everyday life activities. They were Little girl lacing her sandal in 1813, Spinner in 1816 and Little girl with doves also called Innocence. The three works had no historic and literary subject but they followed a kind of old-fashioned genre sculpture - Little girl lacing her sandal reminds naturally of Spinario – which should have also suggested to Thorvaldsen Shepherd boy in 1817, another work without precise themes. In these sculptures balance between subject naturalistic element and representation idealism included references to classical statuary. Nevertheless, the representation of female figures in their simple activities showed a new figurative and expressive trend ascribable to a vain of intimism and a new sensitivity to sentimental poetics that characterized art in Restoration, after the public and pedagogic inclination of revolutionary and imperial art.
The extraordinary success achieved – Spinner was realized for Frederick William III of Prussia, the prince Esterhazy, the sixth Duke of Devonshire, the count Giovanni Edoardo De Pecis, the tsar Nicholas the First – did not prevent Schadow from trying other styles of sculpture. The sitting statue Cupid made in 1819-21 for De Pecis (Milan, Pinacoteca Ambrosiana) was a variation of the homonymous one by Thorvaldsen, in a position similar to the sitting statues Shepherd boy and Mars. Even the lesson learnt from Jason (Copenhagen, Thorvaldsen Museum) and the frieze of Triumph of Alexander (Rome, Palazzo del Quirinale), both made by Thorvaldsen, must had been crucial for the extraordinary success of reliefs made for the duke of Devonshire, representing The rape of Leucippo's daughters and Castor and Pollux in battle with Ida and Linceo (Chatsworth, Devonshire collection), as well as for the exacting huge group of Achilles and Pentesilea (already in Berlin, Schloss, Königskammern), completed in marble after his death by Emil Wolff. This work expressed finally on a large scale master's ideas for the group intended to match Hercules and Lica by Canova at Palazzo Torlonia, never realized but studied by the Danish in a series of drawings and sketches certainly seen by Schadow who maybe could also examine the drawings made by Canova having the same subject.
This bust is a precious addenda to the scanty catalogue of the artist who often tested his own ability to do portraits, making for example the busts of Winckelmann and Haendel for Walhalla of Regensburg wanted by Ludovico di Baviera; as far as feminine busts is concerned, in 1816 and 1821 Schadow depicted the countrywoman of Albano artists idolized for her classical and Raphaelesque aspect.
In this portrait of a not identified young woman, Schadow followed the style of coeval invention sculpture. The face is mild and intimist and sentimentalism of the expression is emphasized by head's light inclination on a side. The elaborate hairstyle, decked with a garland of flowers, is not old-fashioned but contemporary, like the simple and thin Empire style dress wound by a shawl. Some details of execution, such as the rendering of flowers, show not a bad condition (indeed the sculpture is perfectly preserved), but an incomplete finish.
Stefano Grandesso
Reference Bibliography:
Götz Eckart, Ridolfo Schadow. Ein Bildhauer in Rum zwischen Klassizismus und Romantik, Köln 2000.
Giovanna Capitelli, Stefano Grandesso, Roma fuori di Roma, in Maestà di Roma da Napoleone all'Unità d'Italia, Milan 2003, pp. 589-600.
Stefano Grandesso, Pietro Tenerani, Cinisello Balsamo 2003.
Barbara Musetti, in Maestà di Roma da Napoleone all'Unità d'Italia, Milan 2003, p. 388.
Stefano Grandesso, Bertel Thorvaldsen (1770-1844), Cinisello Balsamo, Silvana Editoriale 2015.